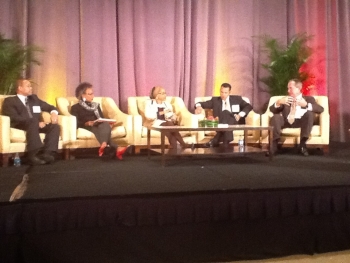 "The next two decades of global diversity and inclusion will present unprecedented opportunities and challenges," began the description of one of yesterday's panels at the 2011 National Diversity Women's Business Leadership Conference. 
Yesterday I had the opportunity to present on that panel, joined by thought leaders in diversity such as Rosalyn Taylor O'Neale, VP and Chief Diversity & Inclusion Officer at Campbell Soup Company and Dr. Johnnetta Cole, the current Director of the Smithsonian National Museum of African Art and past president of Spelman College and Bennett College for Women. 
This event was part of a two-day gathering of diversity professionals, seeking to explore topics like executive development, leadership pathways for women, and disability communication in the workplace. 
Our office also hosted a panel on science, tech, engineering and math initiatives in the Department that seek to engage and mentor women and girls. We looked at the triggers and barriers that stop women and girls from participating equally in these fields - you can check out my presentation on mentorship from the event here.
Attorney-Advisor Pat Zarate joined me from my office to talk about how we use Title IV reviews to protect equal opportunity for women at universities receiving funding from the Department, and we committed to posting the results of these reviews online.
Caroline McGregor from the Office of Policy and International Affairs spoke about our year-old Clean Energy, Education, and Empowerment program that began at the Clean Energy Ministerial last year, and sought feedback on the program. You can get in touch with her via diversity@hq.doe.gov.
We were also joined by Karen King, the Director of Research at the National Council of Teachers of Mathematics. Her organization has a wealth of information about trends among women and math - including the fact that nearly 49% of math majors are women.
We hope that by attending events like this and engaging in conversation with other diversity experts that we will hear more best practices at other organizations and share our work on diversity and inclusion with the general public.