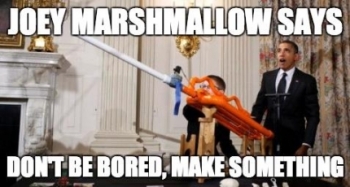 Joey Hudy shot to fame in 2012 when, at 14-years-old, he attended the White House Science Fair where the President took a turn using the contraption he had made - the "extreme marshmallow cannon". Joey then handed the President a card with his credo: "Don't be bored, make something."
*Editor's note: This blog was originally posted by the White House Office of Science and Technology Policy (here).* 
We at OSTP are geeking out about the news that among the esteemed guests who will be sitting with the First Lady during tomorrow's State of the Union address will be two science, technology, engineering, and mathematics (STEM) all-stars: 16-year old "Maker" extraordinaire Joey Hudy, who, as a middle-schooler in 2012, gained national fame after demonstrating his surprisingly explosive invention for the President at the White House Science Fair, and Tyrone Davis, a third-year law student who, in 2010, devised innovative ways for a college in North Carolina to save tens of thousands of dollars and reduce its carbon emissions by nearly 200 tons annually. 
We are also excited that Joey, Tyrone, and some of America's top STEM doers, innovators, and thinkers will continue the celebration of all things STEM on the day after State of the Union, by participating in the second annual State of Science, Technology, Engineering, and Math ("SoSTEM") event at the White House (10am EST on Wednesday, January 29).  At SoSTEM, more than 100 DC-area middle- and high-school students will have an opportunity to hear from and ask questions of John P. Holdren, President Obama's Science Advisor, Todd Park, US Chief Technology Officer, and an awesome lineup of science and technology all-stars, to include: 
THE MAKER Joey Hudy (Anthem, AZ) is a self-described "Maker," part of a growing community of young people, adults, and entrepreneurs who are designing and building things on their own time. Joey first shot to fame in 2012 when, at 14-years-old, he attended the White House Science Fair where the President took a turn using the contraption he had made -- the "extreme marshmallow cannon" – and launched a marshmallow across the East Room. Joey then handed the President a card with his credo: "Don't be bored, make something." Now 16, "Joey Marshmallow" has continued to live by his motto, appearing at Maker Faires all across the country. Joey, a proponent of STEM education, is determined to teach other kids about how they can make and do anything they want. Joey lives in Anthem, Arizona with his mom, dad, and older sister, and attends Herberger Young Scholars Academy on the campus of Arizona State University. Earlier this month, he started as Intel's youngest intern, a position Intel CEO Brian Krzanich offered him on the spot at his Maker Faire exhibit. Joey will be seated in the box with the First Lady, Dr. Biden and Valerie Jarrett, Senior Advisor to the President, at the State of the Union Address this Tuesday. 
THE ENVIRONMENTALIST Tyrone Davis, from Winston-Salem, NC, has been legally blind since the age of nine. Despite his vision loss, he ran cross-country and track in high school, and received a political science degree and Masters of Public Administration from North Carolina State University. He developed an interest in environmental issues during his time as an undergraduate, which led to a fellowship with the Environmental Defense Fund in 2010, placing him at Elizabeth City State University, a historically black university. His recommendations showed the school how to achieve savings of more than $31,000 a year, resulting in nearly 200 tons of carbon emissions reductions annually. Tyrone's father owns and operates a small office cleaning service, while his mother is a cost clerk for the county's school transportation department. He has one younger brother currently attending North Carolina A&T State University. Now in his third year at Elon University School of Law, Tyrone hopes to use his skills to benefit the environment and make communities safer. Tyrone will join the First Lady in her box at the State of the Union Address. 
THE SPACE WALKER Joe Acaba has logged a total of 138 days in space during two missions. Acaba was selected as a mission specialist by NASA in May 2004.  In 2006, he completed astronaut candidate training that included scientific and technical briefings, intensive instruction in shuttle and International Space Station systems, physiological training, flight training, and water and wilderness survival training. On March 15, 2009, Acaba launched to space as part the STS-119 Discovery mission— the 36th flight of Discovery and the 28th shuttle flight to the International Space Station. On May 15, 2012, Acaba was one of three crew members to launch from Kazakhstan aboard a Soyuz TMA-04M spacecraft to the International Space Station (ISS).  Acaba spent 123 days aboard the station as a Flight Engineer of Expedition 31 and 32 to the ISS. Acaba also participated in numerous scientific research experiments and performed regular maintenance aboard the orbiting complex. 
THE ROBOT BUILDER Dr. Gill Pratt joined the Defense Advanced Research Projects Agency (DARPA) as a Program Manager in the Defense Sciences Office in January 2010.  His primary interest is in the field of robotics.  Specific areas include the development of declarative design methods that enhance the symbiosis between designer and design tool, hyper-rapid fabrication methods, interfaces that significantly enhance human/machine collaboration, mechanisms and control methods for enhanced mobility and manipulation, low impedance actuators, and improved platforms for post-secondary robotics education. He also has a strong interest in the application of neuroscience techniques to robot perception and control. Dr. Pratt holds a Doctor in Philosophy in electrical engineering and computer science from the Massachusetts Institute of Technology (MIT).  Dr. Pratt holds several patents in series elastic actuation and adaptive control. 
THE ASTRONAUTS OF TOMORROW NASA's 2013 Astronaut Candidate Class: Josh A. Cassada; Victor J. Glover; Tyler N. "Nick" Hague; Christina M. Hammock; Nicole Aunapu Mann; C. McClain; Andrew R. Morgan; Jessica U. Meir. In August, 2013, after an extensive year-and-a-half search, NASA announced a new cohort of eight potential astronauts who will help push the boundaries of space exploration and travel to new destinations in the solar system. Members of the 2013 astronaut candidate class were selected from more than 6,000 applicants, and will receive an array of intensive technical training at space centers around the world as they prepare for missions to low-Earth orbit, an asteroid, and Mars. 
On Tuesday: Watch the State of the Union (#SOTU): Wh.gov/sotu 
On Wednesday at 10:00am EST: Watch the State of Science, Technology, Engineering, and Math (#SoSTEM): Wh.gov/live 
See you there!