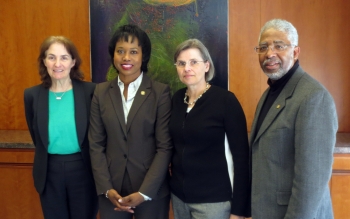 Joining Director Dot Harris (second from left) were Marlene Kaplan, the Deputy Director of Education and director of EPP, National Oceanic and Atmospheric Administration, Claudia Rankins, a Program Officer with the National Science Foundation and Jim Stith, the past Vice-President of the American Institute of Physics Resources.
Let me start with an arresting fact: minorities make up 27% of this nation but only 7% of STEM jobs.
This cannot stand, as STEM fields - that's Science, Technology, Engineering, and Mathematics - are growing in demand in our economy and in our government workforce. In early April, I spoke on this issue at the Assembly of Society Officers meeting with a number of colleagues from the federal government at the American Institute of Physics annual meeting in Washington, D.C.
At the event, we discussed proactive ways to engage more minorities and other underrepresented groups, such as women, in STEM, bringing them hands-on training and real opportunities to educate, engage, and inspire.
As the American Institute of Physics stated in their newsletter, "By paying close attention to the specific needs of the students, faculty can zero in on where their prospective majors are in their career development and cater their curriculum and "extras" to guide them through to graduation." This can result in a variety of programs - training, technical assistance to the schools, field trips to our National Laboratories and facilities, in-person visits from Energy Department staff and more.
Want to get involved? Learn more about some of these ways we are reaching out to underrepresented groups in STEM:
The National Nuclear Security Administration (NNSA) awarded $4 million in grants to 22 Historically Black Colleges and Universities (HBCUs) in key STEM areas.
Our Minority Educational Institution Student Partnership Program brings students to our headquarters and National Laboratories for 10 weeks over the summer, with paid work experiences.
The Office of Fossil Energy's Mickey Leland Energy Fellowship Program  offers a 10 week fossil energy summer internship program.
The Clark Atlanta University Atlanta University Consortium combines the research and development capabilities of Clark Atlanta University, Morehouse College, Spelman College, Guam Community College, Santa Fe Community College, and the Haskell Indian Nations University to support capacity building in alternative, renewable, and green energy technologies.