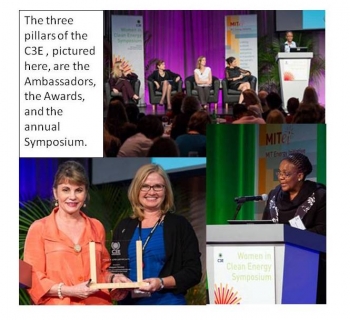 Editor's note: This was originally posted in the Clean Energy MInisterial's Fall 2012 newsletter.
In September, the U.S. Department of Energy and the Massachusetts Institute of Technology (MIT) Energy Initiative co-hosted the inaugural Women in Clean Energy Symposium. Convened in support of U.S. efforts under the Clean Energy Education & Empowerment (C3E) initiative, the event brought together more than 20 distinguished leaders in clean energy, as well as business leaders, policy makers, entrepreneurs, academics, and students.
Senior officials also participated, including South Africa Minister of Energy Dipuo Peters, who has been a strong advocate for C3E, and David Sandalow, Acting Under Secretary and Assistant Secretary for Policy and International Affairs in the U.S. Department of Energy, who was instrumental in the creation of the C3E initiative within the Clean Energy Ministerial.
The United States is one of nine governments supporting the C3E initiative, a network of national-level actions that strive to increase women's participation in clean energy careers worldwide. The United States is working to close the gender gap with a three-part program built around an annual C3E symposium; annual C3E awards; and the ongoing efforts of the C3E Ambassadors, a group of 30 distinguished senior professionals who serve as spokespersons and mentors. The U.S. C3E program is a partnership between the U.S. Department of Energy and MIT's Energy Initiative.
South Africa's Perspective
Minister Peters received a standing ovation for her passionate keynote address, in which she highlighted her government's steps toward bringing renewable energy sources into the country's fuel mix, the imperative of addressing energy poverty, and the need for women to play a bigger role in addressing the world's energy challenges.
"How do we bring women in to make it possible that when we talk about clean energy, women are half of the conversation?" Peters asked. Referencing the saying that "women hold up half the sky," Peters noted that 52 percent of her department's employees are women, including many of her deputies and senior advisors. She highlighted South Africa's launch of a C3E chapter in partnership with private-sector company Sasol, and announced she would advocate for the adoption of C3E chapters among her peers within the African Union's Conference of Energy Ministers of Africa at its November meeting.
Mid-Career C3E Awardees
The day's centerpiece was an awards ceremony and luncheon for the six recipients of the first-ever U.S. C3E Awards for mid-career leadership and achievement. Each winner received a $10,000 cash prize from MIT. Each speaker and awardee shared their unique life story and perspective, emphasizing both the crucial interdisciplinary pathways required for clean energy solutions and the innovative thinking needed to accomplish these goals.
The evening before the symposium, the U.S. C3E Ambassadors anchored small-group networking dinners for symposium participants at restaurants around Cambridge.
Looking Ahead
In January, the nine C3E partner governments will meet in Seoul at the preparatory meeting for the fourth Clean Energy Ministerial. They will identify ways to internationalize C3E efforts, linking national-level efforts wherever possible to increase their impact.
Learn more:
Access video footage of each Symposium session
Read the Recap of the Women in Clean Energy Symposium (Energy.gov blog, 4 October 2012), a storyboard recap that includes participants' photos and Tweets
Read MIT News coverage: Women's impact in clean energy is growing worldwide
(1 October 2012)