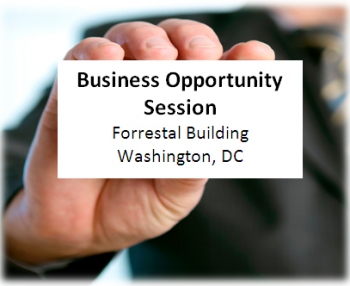 The Department of Energy's Office of Small and Disadvantaged Business Utilization is hosting a Business Opportunity Session. Please join us on Monday, July 29, 2013 from 9:00am – 3:00pm for the U.S. Department of Energy Business Opportunity Session at the Department of Energy in Washington, D.C.
Registration is required - register by emailing smallbusiness@hq.doe.gov
HUBZone and other small business owners will have the opportunity to network with and learn from Department of Energy key agency procurement representatives as well as peer mentors to offer first-hand advice. The event will feature insight into potential procurement opportunities in upcoming fiscal years, an update on the current status of the HUBZone program, and updates from the National Energy Technology Laboratory, the Office of Science, the Office of Nuclear Energy, the Office of Energy Efficiency and Renewable Energy, the National Nuclear Security Administration, and the Office of Environmental Management. 
The event is free to attendees, and open to all small businesses in addition to HUBZones. Small businesses must pre-register in order to attend. All attendees must be U.S. citizens, and bring a current, government-issued photo ID for access to the building. To speed the entrance and exit security process, refrain from bringing a laptop or electronic tablet to the event.
 
HUBZone Business Opportunity Session
Monday, July 29th, 2013 9:00am – 3:00pm, check in beginning at 8:00am
 Department of Energy Main Auditorium
1000 Independence Ave.SW
Washington, D.C. 20585
Street parking is limited, public transportation is advised. Lunch will be available for your purchase at the Department's cafeteria and in-building Subway sandwich shop or Dunkin Donuts.
Registration and confirmation of your registration are required to attend the event. To register, email smallbusiness@hq.doe.gov. You will receive confirmation of your slot at a first come, first served basis.