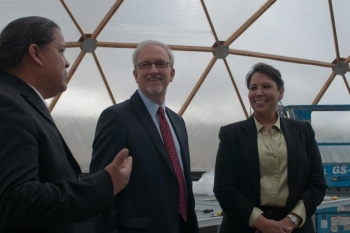 (From Left) Stuart Harris, Confederated Tribes of the Umatilla Indian Reservation, Director of the Department of Science and Engineering, Dave Huizenga, Senior Advisor for the Office of Environmental Management, and Tracey LeBeau, Director of the Office of Indian Energy Policy and Programs at the groundbreaking of a field station in Oregon.
Improving science, technology, engineering and math (STEM) education in the United States can provide a path forward for national defense, economic prosperity and international competitiveness.  Looking to the future, the Office of Environmental Management is partnering with the Confederated Tribes of the Umatilla Indian Reservation to help STEM education take root in the Pacific Northwest.
The tribal group's leaders and Office of Environmental Management Senior Advisor Dave Huizenga recently took part in a ribbon-cutting ceremony for the new field station on tribal land in Oregon. This groundbreaking research facility contains biology and analytical chemistry laboratories and an area for biofuels production. Tribal and other students will receive training in the summer in STEM research and experience what it is like to work in a university or federal laboratory. Those future scientists, researchers and engineers will develop skills to protect local resources. The Energy Department, which also promotes STEM education, contributed to the cost of the tribal group's field station.
The field station also has two greenhouses for cultivating native plants. Biologist will grow tens of thousands of seedlings, including threatened and endangered species. Protecting these local plants helps protect natural and cultural resources, wildlife and provides vegetation that can be replanted at the Hanford site as cleanup progresses.
The tribal group includes the Cayuse, Umatilla and Walla Walla people. Historically, they have lived on the Columbia River Plateau, an area incorporating northeastern Oregon and southeastern Washington. The tribal group works in partnership with the Hanford Site on restoration and the protection of natural and historical resources. 
For more information about the Office of Environmental Management's work with Tribal Nations, visit their website: http://www.em.doe.gov/Pages/tribalnations.aspx