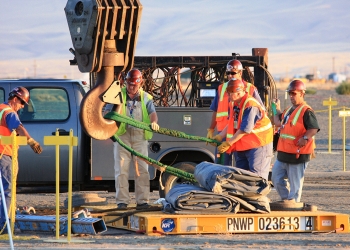 Small businesses are the backbone of our economy, employing half of all workers in America and creating two out of every three new jobs in the U.S.
Today, our Hanford Site awarded a $99 million contract (approximate value) to a minority-owned, women-owned, certified small business. The HPM Corporation of Kennewick, Washington, will provide Occupational Medical Services for the nearly 8,000 employees who work for Hanford Site contractors, Energy Department Offices, and others working at the Hanford Site. Download the press release from the Office of Environmental Management here.
HPM Corporation, founded in 2001, will be responsible for operating and maintaining services at two clinical facilities. Their work for the Energy Department on this contract will support epidemiological studies of current and former Hanford site workers, the Chronic Beryllium Disease Prevention Program, the Energy Employees Occupational Injury Compensation Program Act, and the medical records of current and former Hanford workers.
The contract announced today is one of many ways the Energy Department supports the critical role that small businesses are playing in creating jobs for American workers and expanding our country's clean energy economy. These businesses are helping to reduce our dependence on imported oil and protect our air and water, while ensuring that the United States leads in the global clean energy race.
After a transition period, the HPM will assume responsibility for this contract on October 1, 2012. The contract has a six-year period of performance, consisting of a two-year base period, with four one-year option periods.
The 586-square-mile Hanford Site in southeastern Washington State has played a pivotal role in the nation's defense beginning in the 1940s with the Manhattan Project. Formerly a plutonium production complex with nine nuclear reactors and associated processing facilities, Hanford is today engaged in the world's largest environmental cleanup project.
Learn more about small business contracting at the Department of Energy here.