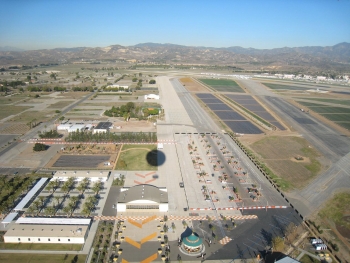 An aerial shot of Orange County Great Park, site of the 2013 Solar Decathlon.
Of the elite twenty teams that have been selected from across the country and around the world to compete in the 2013 Solar Decathlon, four are Minority Serving Institutions (MSIs), showcasing the talent of our nation's MSIs in science, technology, engineering, and mathematics. Congratulations are in order to these MSIs - and their partners - for making it to the Solar Decathlon:
The University of Texas at El Paso and El Paso Community College (El Paso, Texas)
Hampton University and Old Dominion University (Hampton and Norfolk, Va.)
Arizona State University and the University of New Mexico (Tempe, Ariz., and Albuquerque, N.M.)
New in 2013, these teams will be reassembling their designed-from-scratch solar-powered homes not on the National Mall, but across the country at Orange County Great Park in Irvine, California. The teams are now kicking off a two year process of coming together to envision, design, budget, build, disassemble, and re-build their 100% solar-powered homes that will compete before expert judges in categories like affordability, sustainability, consumer appeal, and design excellence.
Solar Decathlon organizers reviewed twice as many proposals than they could accept from schools this year, increasing the caliber of schools who have made it to the competition. 
For the complete list of schools, site map, and more information about the Solar Decathlon, check out http://www.solardecathlon.gov/