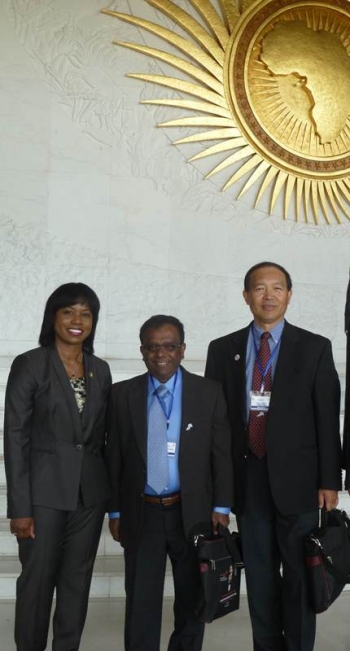 Director Dot Harris meets with Subramania I. Sritharan PhD, P.E., Central State University, and John J. Qu, Ph.D., George Mason University, fellow participants at the May 2014 U.S.-Africa Energy Ministerial in Ethiopia.
Energy touches everything we do. It impacts quality of life, innovation and economic growth. Energy is a vital resource for any country, and so are the people who can help harness it – engineers, chemists, scientists and others critical to the process.
Technical exchanges can combine the knowledge and resources of African and American universities and businesses to solve gaps in energy infrastructure, workforce development and economic development. I moderated a panel focused on creating innovative partnerships and technical exchanges between American and African universities and businesses to address energy and development challenges at the May 2014 U.S.-Africa Energy Ministerial in Ethiopia.
Our speakers included representatives from Chevron, Clark Atlanta University, Central State University, George Mason University and the U.S.-East Africa Geothermal Partnership. The panel explored the skills and resources needed, from language training to an energy-focused curriculum, to developing and sustaining successful technical exchange programs. Anibal Silva, Secretary of State for Petroleum at the Angolan Ministry of Petroleum Resources, also shared his vision on how the United States and Angola can work together to create a university-to-university technical exchange program for oil and gas engineers and technicians.
Developed together with the support of government leaders who can ensure the programs are consistent with national economic goals, these partnerships among universities and the private sector can contribute to achieving national and regional energy development priorities through human and institutional capacity building. Such exchanges can enable citizens, academia, the private sector, and civic and educational institutions of nations to collaboratively energy development challenges.
For more information on how our office works with minority students, visit our webpage: http://energy.gov/diversity/services/minority-education-and-community-de...