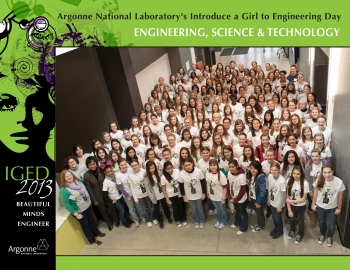 Dot Harris, Director of the Department of Energy's Office of Economic Impact and Diversity meets with students at Argonne National Laboratory's Introduce a Girl to Engineering Day (Photo by Argonne National Laboratory)
Editor's Note: This blog was originally posted on the White House website.
As we celebrate the historic accomplishments of women during Women's History Month, there is no better time to engage and empower the next generation of girls to rise up as leaders of our democracy and economy.
In that spirit, last week, schools, companies, universities, and National Labs across the country engaged in a range of activities aimed at getting girls excited about classes and careers in the field of engineering—all part of the 13th annual "Introduce a Girl to Engineering Day."
Women today earn only 18 percent of the America's undergraduate degrees in engineering—a disparity that suggests the Nation is not taking full advantage of the spectrum of creative energy that could be applied to this important field. To help correct this imbalance, the Administration and a wide range of collaborators in the private sector have been working to spark girls' interest in the engineering disciplines, which have contributed so much to our economy overall and to such important sectors as medicine, energy, environmental protection, and national security.
In fact, just a few weeks ago, after delivering this year's State of the Union address, the President himself took a moment during a Google + hangout, to stress just how important this effort is, noting:
"One of the things that I really strongly believe in is that we need to have more girls interested in math science and engineering. We've got half the population that is way underrepresented in those fields and that means that we've got a whole bunch of talent … not being encouraged the way they need to."
That's why classrooms, museums, labs, and businesses across the country - and even a few partners around the world – last week made special efforts to welcome girls to learn more about engineering careers, participate in hands-on-learning opportunities, and connect with role models who have committed themselves to changing the world through building and making.
At one of these events, attended by nearly 100 people at Argonne National Laboratory, Dot Harris, Director of the Department of Energy's Office of Economic Impact and Diversity, shared her own story of becoming a world-traveled engineer. The day also featured tours, an engineering expo, and a team car-building competition.
But inspiring students, particularly girls and underrepresented minorities, to excel in engineering, isn't just a once-a-year endeavor. There is much that can be done to excite the interest of girls and boys, both in the days to come and throughout the year.
As we begin this women's history month, you too can learn more about the
Administration's activities to help students excel in science, technology, engineering, and math, and find out what's being done to ensure that women and girls are among the groundbreaking scientists and engineers who will secure America's future economic competitiveness and sustainable wellbeing.