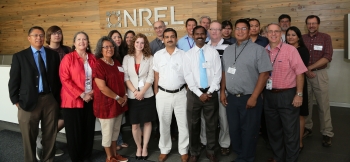 Students and faculty participating in AIREI gather at the one-week Energy Summer Institute, held at NREL last summer.
Throughout November, we celebrate Native American Heritage Month as a country, honoring the first people who lived in the United States and the ways that American Indians and Alaska Natives enrich our Nation. 
President Obama signed an Executive Order last December to expand educational opportunities for Native American students. As he stated in his Proclamation for National Native American Heritage Month, the Executive Order aims to "preserve Native languages, cultures, and histories, while offering a competitive education that prepares young people to succeed in college and careers." Read the full Proclamation here.
The Office of Economic Impact and Diversity carries out this Executive Order by working in partnership with organizations like the American Indian Science and Engineering Society (AISES) and the American Indian Higher Education Consortium (AIHEC). This partnership focuses on career opportunities for American Indians. We especially want to increase access to science, technology, engineering, and mathematics (STEM) programs for American Indians and Alaska Natives, offering hands-on opportunities to introduce Native American students to STEM careers and entry points to federal service.
Launched last year, the American Indian Research and Education Initiative (AIREI) created some of these opportunities. AIREI funded student and faculty teams pair tribal college and mainstream universities to run energy projects on tribal lands. The program, managed in partnership with the American Indian Science and Engineering Society (AISES) and the American Indian Higher Education Consortium (AIHEC), has fostered collaboration between schools to connect them with the technological expertise of the Department's National Energy Technology Laboratory (NETL) in Golden, Colorado.
In Navajo Nation, the Navajo Technical College and Arizona State University are studying the effectiveness of solar photovoltaic system design in meeting the energy demands of Navajo homes and public buildings. The research team aims to develop a solar technology curriculum that will share their research with the community. At the Crow Nation, the research team of Little Big Horn College and Montana State University-Bozeman are developing nitrogen-fixing cyanobacteria to advance carbon capture and sequestration technologies. Over at the Rosebud Sioux reservation, the Sinte Gleska University and South Dakota School of Mines research team are using computer modeling and simulation technology to evaluate oil and gas development feasibility at the reservation's Niobrara Formation.
Through AIREI and other programs, we hope to further engage Native American and Alaska Native students in STEM fields while leaving lasting benefits for tribal communities. This month, as we celebrate National Native American Heritage Month, we celebrate the Department's successes and look highlight opportunities for future collaboration.
Learn more about the work that the Office of Economic Impact and Diversity is doing with Tribal Nations and Native American students, small businesses, and communities, at http://energy.gov/diversity/working-us/tribal-communities