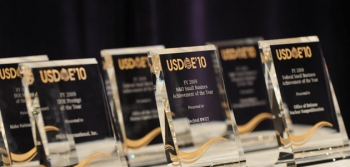 Past awards from the Department of Energy Small Business Awards program.
What does an environmental remediation company, a company that measures greenhouse gases, and an information technology company have in common? All have been recognized by the Energy Department for their exceptional performance and creativity towards helping the Department achieve our mission.
These companies, and 12 others, received a Fiscal Year 2011 Small Business Award. Nominated by small business program managers from Departmental sites across the country, these award winners know that we think of small businesses first when it comes to doing business at the Department of Energy.
View the full list of winners here.
As part of National Small Business Week, we celebrate these award winners and their committment to the mission of the Department of Energy. The FY 2011 Award winners include small businesses, program managers, and Management & Operations contractors at the Department. Over the last year, the Department of Energy contracted with over 7,000 small businesses. These businesses helped to reduce our dependence on imported oil, protect our air and water, and ensure that the United States remains a leader the global clean energy race.
The FY 11 Small Business Award recipients are from Oklahoma, Texas, California, Washington, Louisiana, Tennessee, New Mexico, and Energy headquarters in Washington D.C. We celebrate their success, and we appreciate the exceptional performance of these businesses as they advance the Department's mission.
Secretary Chu, Associate Deputy Secretary Mel Williams, Director of the Office of Science Bill Brinkman, and I will be meeting with the award winners and presenting these awards on June 27 in Washington D.C.  We hope you will join us in applauding these successful small businesses and small business advocates.