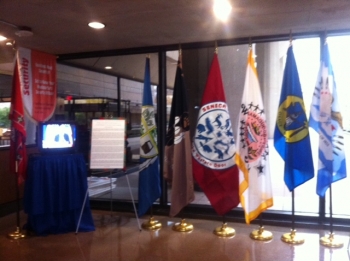 A display for Native American Heritage Month in the Forrestal headquarters lobby.
We celebrate Native American Heritage Month to honor Native Americans, their rich heritage, and their present accomplishments. Native Americans are innovators, entrepreneurs, leaders, and scholars, and our debt to them is immense.
Yesterday we kicked off a three-part film series for Native American Heritage Month, co-presented by the Smithsonian's National Museum of the American Indian. Employees and contractors from the Department of Energy and other Federal agencies were invited to the Department of Energy headquarters to view a series of short films to celebrate past and present Native American culture. These films brought stories of indigenous language, foods, people, and lifestyles to life. 
Sikumi (On the Ice), a 2008 film by director Andrew Okpeaha MacLean, depicted an Inuit hunter's ordeal when his dog team comes across a murder in the frozen Arctic Ocean. Director Blackhouse Lowe's Shimasani portrayed a 1920's scene of a Navajo reservation, witnessing Mary Jane's decision to depart the reservation for the unknown world or to stay with her family and their land. The Search for the World's Best Indian Taco, a 2010 short by director Steven Judd, told a light-hearted story from a Choctaw man to his grandson of a man on the search for the world's best Indian taco. A series of three-minute videos - Spelling Bee, Airplane, Earl Smith, and Mom n' Me - traced the roots of Native language and its current stigmas and uses.
Employees in the DC area are encouraged to join us for the continuation of the Native American Heritage Program for our next two film series. On Wednesday November 23, we'll explore energy development in Indian Country. Films from our National Laboratories including Bonneville Power Administration's Celebrating Tribal Utilities: Power to Lead; Hanford's Powering Native America; A Journey Through the Hanford Nuclear Reservation; and feature length film Power Paths will showcase the history of energy production in Indian Country and the opportunities and challenges for it going forward. At this event, Energy employees can get training credit with CHRIS Course #002272.  
On Wednesday November 30 we'll close out our film series with another film co-presented by the Smithsonian's National Museum of the American Indian. Feature film Reel Injun, the Trail of the Hollywood Indian will be shown and discussed with guest speaker Paul Chaat Smith, an Assistant Curator at the National Museum of the American Indian.
For more information about these events, email diversity@hq.doe.gov. If you'd like to learn more about the work we do with Tribal communities at the Department of Energy, visit our site: http://energy.gov/diversity/working-us/tribal-communities