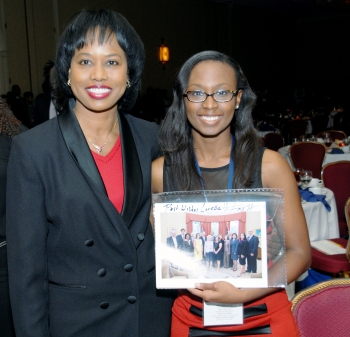 Director Dot Harris spoke with over 330 students about diversity in computing and other technical careers at the Richard Tapia Diversity in Computing Conference in February 2013.Photo Credit: Reggie Campbell, RL Campbell Photography
Finding your niche and making your mark should be the goal of any young professional. Here at the Energy Department, while we drive our mission forward every day, our employees seek to make a personal impact on the people and communities they serve. This February, I spoke on this important topic at the 2013 Richard Tapia Celebration of Diversity in Computing Conference, a meeting of 550 students, academics, and computing professionals here in Washington D.C.
This was a particularly important audience to address about making a personal, lasting impact in STEM work. Minorities and women are serverly underrepresented in STEM fields, including technical careers like computing. At the conference, 51 percent of the attendees were women, 43 percent were African American, 26 percent were Hispanics and Latinos, and Caucasians comprised 19 percent of the audience. Students, from freshman to Ph.D. candidates, made up 60 percent of all attendees. For 69 percent of those attending, this was their first time at the Tapia conference, and for many of them it was their first professional conference.
Across the Energy Department, we're partnering with National Labs and universities throughout the country to connect students with the tools and knowledge they need to lead the 21st century global economy. I encourage students and young people to pursue these unparalleled opportunities and apply their talents towards solving the world's important energy challenges, making their mark on the clean energy future.