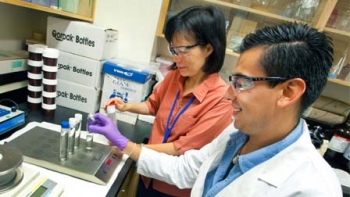 Applications are now open for the Office of Science's Visiting Faculty Program.
Applications are being accepted now through January 10, 2013, for the Visiting Faculty Program, which hosts university and college faculty members at Energy Department Laboratories to collaborate on research projects during a ten-week summer term.
From May through August, participants selected for the Visiting Faculty Program will be hosted at one of 14 National Laboratories across the country. Participants are offered different research opportunities, and interested faculty members are encouraged to contact Energy Department laboratory scientists in advance to discuss research projects of mutual interest. Faculty member participants may invite up to two students (one of which may be a graduate student) to participate in the research project.
Learn how to apply here: http://science.energy.gov/wdts/vfp/how-to-apply/
The Visiting Faculty Program (VFP), formerly called Faculty and Student Teams (FaST), seeks to increase the research competitiveness of faculty members and their students at institutions historically underrepresented in the research community in order to expand the workforce vital to the Energy Department's mission areas.  The Program is sponsored and managed by the Office of Science's Office of Workforce Development for Teachers and Scientists in collaboration with the National Laboratories.
Applicants must submit a research project proposal co-developed with the collaborating research staff located at the host Energy Department laboratory. Proposal guidance and requirements can be found athttp://science.energy.gov/wdts/vfp/how-to-apply/developing-a-research-proposal/.  
Applicants from institutions participating in select National Science Foundation (NSF) programs may apply to NSF for supplemental funds to support the VFP appointment at a National Laboratory. Applicants interested in participating in the NSF program are required to include at least one undergraduate student and must apply to NSF for supplemental funds according to the NSF guidelines. More information about eligible NSF programs can be found at http://www.nsf.gov/pubs/2010/nsf10019/nsf10019.jsp.