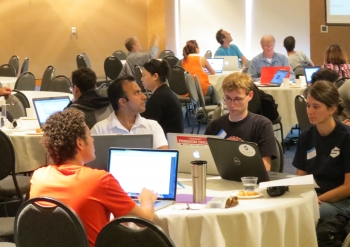 Participants at the Los Angeles Apps for Energy Hackathon build what could be the next great energy app. | Photo courtesy of UCLA.
In the last two months, the Energy Department -- in partnership with our Presidential Innovation Fellows -- sponsored a series of hackathons across the country to encourage the creation of energy-related apps for consumers and expose the tech community to some of our most powerful datasets, standards and tools.
The hackathons were held in Washington, D.C., San Diego, Valley Forge, Pennsylvania, Boston, and Los Angeles as part of Contest 2 of the American Energy Data Challenge, sponsored by the Office of the Chief Information Officer, Office of Energy Efficiency & Renewable Energy Reliability, and Office of Electricity Delivery and Energy Reliability. The hackathons are part of the Energy Department's efforts to introduce the public to our Application Program Interface (APIs) and Green Button data -- as well as the best ideas from Contest 1 of the American Energy Data Challenge.
The Washington, D.C., hackathon was held at local startup incubator 1776 and brought in 108 people building apps in 12 teams. The winner used Green Button data and mapped home energy use onto the Zillow.com real estate database as a means of comparing the energy efficiency of houses listed for sale.
In San Diego, the winning team developed a demo that monitors energy consumption in devices inside a typical home using adapters purchased from Best Buy. The app monitored electricity used as compared to a budget the user set up on their cell phone for each month. When energy use got too high, the consumer automatically received a text asking if they'd like to make a series of proactive changes to reduce use to stay within their target budget. 
In Valley Forge, the hackathon was held at the PJM Interconnection headquarters and a team built an app called "Incentive Finder" that allowed a user to enter their address, then quickly and easily find federal, state and local energy reduction incentives and local companies they could work with to help them make changes to save energy.
In Boston, hack/reduce in Kendall Square hosted 40 people who formed nine teams. The winning team developed an app called "PowerMarketa" that will enable consumers to potentially save hundreds of dollars or more a year on energy. With this app, customers submit their detailed Green Button data to over 250 licensed suppliers in the state of Massachusetts. Those providers then bid on supplying the customer with electricity.
Finally in Los Angeles, UCLA brought students, professionals and tech entrepreneurs together to compete to build the coolest app. The winning team built an app called "Seenergy," that allows a customer, at their sole discretion, to safely and securely analyze their Green Button data to determine specific electric meter reading patterns over time. This way they could automatically identify major appliances and their corresponding energy use. The app would then provide specific recommendations on how to save energy.
These hackathons demonstrated the amazing things American entrepreneurs can achieve when empowered with open data, standards and tools. Many of the teams are also participating in the nationwide American Energy Data Challenge, in which the Energy Department is awarding prizes for the best apps that solve energy-related challenges using some of the Department's most valuable and important datasets. Vote for your favorites from Contest 2 on the challenge website. Apps that receive the most votes by April 4 at 9 p.m. ET will be eligible for a "popular choice" prize.