Richard King - Director, Solar Decathlon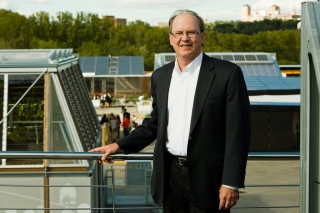 The Solar Decathlon is an award-winning competition that challenges teams to design, build, and demonstrate high-performance net zero energy homes.  The two-year program culminates with a competition at a single site where the houses are on public display in a Solar Village.
Mr. King created the inspiring collegiate competition in 2000 and has been its director for the past 15 years. Starting with the Solar Decathlon 2007 the competition began including international teams, and in 2010 the first Solar Decathlon Europe was held in Madrid, Spain.  The success of the European competition quickly spread leading to five other Solar Decathlons around the world. Mr. King participates on competition oversight committees and provides technical assistance to international organizers and event staff.