Marissa Newhall - Director of Digital Strategy and Communications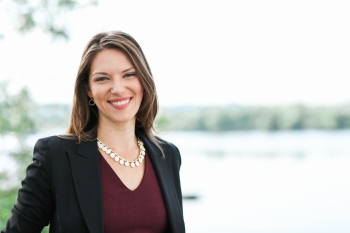 Marissa Newhall is Director of Digital Strategy and Communications at the U.S. Department of Energy. In this role, she runs daily operations for the Department's primary public-facing website, Energy.gov; manages the Office of Public Affairs' digital content team; and oversees the Digital Reform Project, an effort to cut wasteful spending and improve user experience by consolidating the agency's public-facing websites onto a mobile-first, open-source platform. Marissa also serves as a Senior Advisor to Secretary Moniz on strategic digital technology initiatives. 
Prior to joining the Department of Energy, Marissa directed digital strategy and media relations at two energy-related nonprofit organizations in Washington, D.C., and received her master's degree in public policy from Georgetown University. She started her career as a reporter and blogger at the Washington Post, where she spent three years writing feature stories for the Style section.
A native of south Florida, Marissa bicycles everywhere, treats tacos like a food group, and travels to warm, sunny places as much as possible. In her spare time, she teaches indoor cycling classes at a fitness studio in Capitol Hill.