Dan Leistikow - Former Director, Office of Public Affairs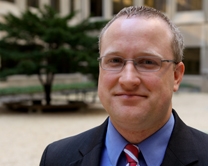 Dan Leistikow joined the U.S. Department of Energy with the new administration on January 21, 2009 as Director of Public Affairs, overseeing all media relations, speechwriting and digital communications strategy for the Department. In this role, he is the chief advisor to Secretary Chu and other senior Department officials on communications issues.  
Dan has worked on public affairs and energy issues at the local, state and federal levels. He is a veteran of both the Obama and Edwards presidential campaigns as well as the Presidential Transition Team. Previously, he spent four years in Wisconsin as Press Secretary and then Communications Director to former Governor Jim Doyle. He was Communications Director for the 2002 campaign of former U.S. Senator Jean Carnahan and Speechwriter for former Washington, D.C. Mayor Anthony Williams. Dan is a graduate of Georgetown University.