Cammie Croft - Former Senior Advisor and Director of New Media & Citizen Engagement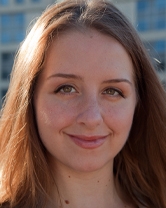 Cammie formerly served as a Senior Advisor and the Director of New Media and Citizen Engagement in the Office of New Media. Cammie focused on opening up government and transforming the department's operations through new media and technology. Cammie spearheaded innovation both in government and politics, leveraging new technology and digital communication practices.
Prior to joining the Energy Department, Cammie was Deputy Director for New Media at the White House where she played a pivotal role in creating and shaping the White House's first New Media department. Cammie managed a number of key programs and initiatives, including the development of online programs for offices within the Executive Office of the President. Cammie came to the White House from the Obama-Biden Transition Project, also serving as Deputy New Media Director. During the 2008 Presidential Campaign, she served as the New Media Rapid Response Director for Obama for America.
Cammie attended the University of Washington in Seattle, where she graduated with distinction, and was also selected by her peers to the University of Washington's Student Hall of Fame. She is an alumnus of the New Organizing Institute (NOI), an online organizing forum for tech-savvy, progressive campaigners.