Outlook Web Access provides access to unencrypted email only and is suitable for use from any computer.
Secure Email Requirements:
An EITS provided Exchange email account
An EITS provided RSA SecureID Token with an active account in the EITS-managed RSA Authentication Server
Appropriate access granted Active Directory group membership
DOEnet or Internet access and a supported web browser
Secure Email Login Procedure:
Enter https://smail.doe.gov/ in the address field of your Internet browser. The Outlook Web Access window appears.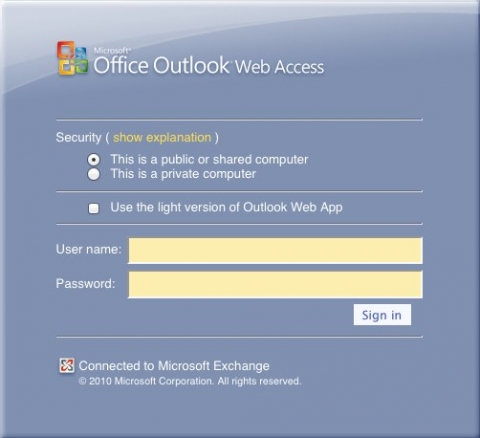 When using an RSA SecurID hardware token:
Enter your user name in the User name field.
Enter your password, which is your RSA token PIN plus the number displayed on the token in the Password field.
Click Sign in.
When using a Blackberry software token:
Enter your user name in the User name field.
Use the SecureID application on the Blackberry, enter your pin and select Get Passcode. Your password appears.  Do not include your PIN when entering this password in the Password field
Click Sign in.
For more detailed instructions: http://energy.gov/cio/downloads/microsoft-word-smailsecureweb-basedemailv3-2doc