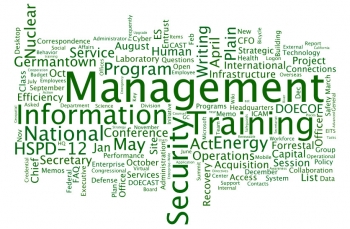 The 500 most viewed pages on Powerpedia, the Energy Department's internal information-sharing website which turned two on January 27, 2011. | Image credit Thomas O'Neill.
By almost any measure Wikipedia has revolutionized information sharing the world over.
Every minute of the day, volunteers are collaborating on more than 20 million articles throughout the site.
The Energy Department, inspired by the idea of creating a centralized hub for collaboration and information, launched its own internal wiki ­ Powerpedia ­ two years ago today.
In its first two years, we have achieved several significant milestones and changed the way we share information.
Employees can now access and contribute to specific articles about what¹s going on throughout the Department, including in our 21 national labs and technology centers.
Our employees collaborate on more than 12,000 pages that have a collective total of more than 750,000 page views.
And the wiki enables us to better serve taxpayers.
As part of the effort to centralize the Freedom of Information Act (FOIA) process, several different divisions within Department now use Powerpedia to streamline information flow ­ helping FOIA specialists across headquarters better prepare responses that can quickly be reviewed and approved according to the new process.
This technology has also ushered in a number of 21st century business practices. We¹re the first agency in the federal government to use bots, short for "robot," on our site, which is a script that encourages active collaboration and actually maintains content on Powerpedia.  This approach allows us to find and fix broken links, for example, ensuring that our site is robust and up to date.
Ultimately, this technology enables our employees to collaborate and be on the same page ­ making them more effective in achieving the critical mission of the Energy Department.