The Combined Federal Campaign (CFC) is the largest and most successful workplace charitable giving drive in the world, and it offers Federal employees the opportunity to donate to over 4,400 local, national, or international charities. Find approved charities that you believe in by using the CFC search tool or by downloading the 2012 Catalog of Caring.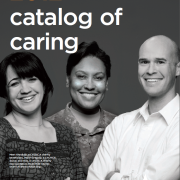 This year, the DOE encourages you to join in this effort so that we can give together. As the CFC enters its sixth decade of giving, it is more important than ever to join together and provide aid to those in need. See what your donation can do to make a difference on our Why Give? page.
DOE particularly encourages eGiving--it is quick, easy, and secure. You can make an electronic donation through the CFC eGive page with the option of contributing by credit/debit card, electronic check, or payroll deduction. Paperless payroll deduction is the preferred donating option for the CFC. It reduces costs, improves accuracy, and is more convenient for the donor. 
To eGive through the CFC, register or sign in at the eGiving portion of the CFC website. Here, you will be directed to select the charities you would like to donate to and select a method of giving. You can also print a copy of the confirmation page for your records. There's no need to fill out hard copy forms or hand anything to your Keyworker.
You can also use the traditional manual method for contributing by attaining a CFC Pledge Form from your Keyworker. You can give with cash, check, credit/debit card, or payroll deduction using this option. You can learn more about completing your pledge form with this CFCNCA sample.
When you make a donation, you have the option of releasing your personal information to the charity or charities you have chosen to support. You can either give anonymously or provide your personal email or home address, as well as the amount of your pledges.