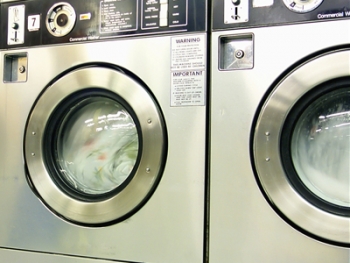 Wyoming residents can receive rebates on ENERGY STAR appliances such as clothes washers. | File photo
Wyoming's appliance rebate program, which opened in April, continues through this fall. Residents of the Equality State can receive rebates on ENERGY STAR certified clothes washers, dishwashers, water heaters and gas furnaces ranging from $50 to $250.
The program still has 40 percent of the original $511,000 in Recovery Act funding to distribute. As of last week, Wyoming had issued $231,500 in rebates.
So far, rebates are being fulfilled at a steady pace. "We're happy with the pace that we've been issuing the rebates," says Heather Tupper, the grants and contracts specialist at the Wyoming Business Council.
After purchasing the appliance, Wyoming residents submit a proof of purchase, copy of a utility bill and application for the rebate.
"Participation has been wide-spread across the state," says Tupper. As a rural state—according to the U.S. Census's 2009 estimate, Wyoming is the least populated state with 5.1 people per square mile—this can be a challenge.
Tupper says that "at first, it was a little more concentrated in bigger areas, but after a few weeks, rebates started coming in from all over the state. It's been spread out and great to see these folks participating."
Family-owned business benefits
Brown's Western Appliance, a family-owned business in Worland, has seen an increasing number of ENERGY STAR appliances being sold as a result of the program. The store serves about 10,000 Wyoming residents in the areas surrounding Worland.
"People are coming in and choosing ENERGY STAR over other appliances," says Tracey Wempen, an employee with Brown's. "People are very happy, and they're willing to upgrade to more expensive machines with the rebates."
In addition to rebates, the state has been encouraging residents to properly dispose of or recycling old appliances.
"We're an energy producing state, we focus a lot of our attention on producing energy that's leaving the state," says Tupper. "The program offers residents an opportunity to save on their own energy usage."