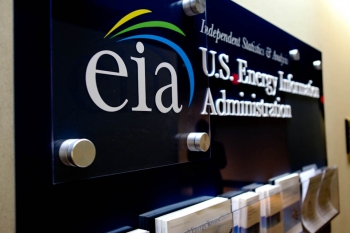 Since 1977, Colleen Blessing has worked for the Department's Energy Information Administration. | Energy Department photo.
EDITOR'S NOTE: Since 1977, the people of the U.S. Department of Energy have been delivering the science, innovation and expertise required to advance America's energy, economic and national security. To commemorate the 35th anniversary of this important endeavour, Energy.gov is featuring stories from a few of the Department's longest serving employees.
I was first hired into government service by the Department of Transportation right out of college. I had a degree in economics but had no idea what I wanted to do, and I moved from California to Washington, D.C. to start my career. I was in the Department of Transportation for a couple years, then the Bureau of Mines for a couple more. I didn't apply to work at the new Energy Department—my group was transitioned over from the Bureau of Mines in October 1977 when the Department was formed, and I have worked at the U.S. Energy Information Administration at the Energy Department ever since.
So, what's the biggest change I have seen at work over the past 35 years? Personal computers! Much of my work with the Energy Department has required me to work with computers of various types and vintages, and I vividly remember how different it was to work with big mainframes and typists before the age of desktop personal computers came along.
When I got to the Energy Department in 1977, at least we were past the IBM key-punching stage, but to run something on the computer (a huge mainframe located in another part of the building), we put in a job, waited a few hours or maybe overnight, and then went to a room to "pick up our run," which was piles of folded green and white perforated computer paper.  
Without PCs, we either had to do our own typing or "put it into typing." There were many secretaries. Today, if something isn't ready, we might say it's still in review or we need to accept the track changes, but in 1977, a reason for not having the document available was "it's in typing." We would pass by our inboxes several times a day hoping our typed version had been completed and returned.  
Before we had reports as electronic files, if we wanted to give a copy to 10 people, we had to make 10 paper copies and hand-deliver them around to the 10 recipients. Even though I was a mid-level analyst, I spent a lot of time at the copy machine. If we needed notebooks to organize materials, we had "hole-punching parties." There were little white circles all over the office!
Through the years I've been at the Energy Department, I've worked on long-term energy forecasting, then short-term forecasting, then budget and planning. Currently, I work on the daily report posted on the home page and am the agency contact for plain language and agency writing style. More recently I have worked on many interesting projects including surveying our web customers, and conducting usability testing of our agency's website – which helps track visits to webpages like Energy Kids (where you find my favorite character: Energy Ant).
Some days I am at the computer all day long, reviewing and editing reports and working via email with the writing team to create content. The environment of having minimal technology is almost unimaginable now. The efficiencies gained at the Energy Department over the years have been astounding.