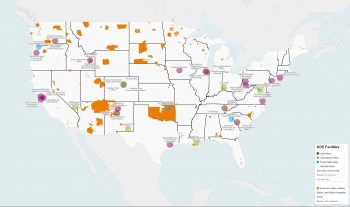 Our Nation's tribal communities are neighbors to the Energy Department's National Laboratories and sites. In some cases there are tribes who retain treaty rights to land under the control of the Department.
Our mission as a Department – to ensure America's security and prosperity by addressing its energy, environmental, and nuclear challenges through transformative science and technology solutions – touches Indian Country in many ways.
As you can see from the map above, one of the ways the Department intersects with tribal nations is geography. Our Nation's tribal communities are neighbors to the Department's National Laboratories and sites. In some cases there are tribes who retain treaty rights to land under the control of the Department. Multiple Departmental sites are located on tribal ancestral and aboriginal homeland. This physical presence and legal treaty rights are a reminder of our obligation to consult with tribal nations about the work that we do, recognizing the impact the proximity of our sites has on Indian Country and our trust obligation to the 565 federally recognized tribal nations.
Take the Fort Hall Indian reservation, for example. Home of the Shoshone-Bannock Tribes, this reservation is in southeastern Idaho, with their boundary coming approximately 45 miles within the Idaho National Laboratory. In the late 1940s, the government withdrew a 890 square mile parcel of the Shoshone-Bannock Tribes' land, and set it aside for government research purposes. This land is now the Idaho National Laboratory, and is within theTribes' aboriginal territory.
The Energy Department negotiated an Agreement in Principle with the Shoshone-Bannock Tribes to address tribal interests and concerns over projects relating to the environment, cultural resources, and emergency preparedness, and response. Through this agreement, the tribes are routinely briefed, their opinions are solicited, and both parties work to resolve issues that come up. This relationship between the U.S. government and the Shoshone-Bannock Tribes dates back to 1868, when the Fort Bridger Peace Treaty was signed. Today, the Department works with Shoshone-Bannock Tribes and 564 other federally-recognized tribes on a government-to-government relationship.
At the Los Alamos National Laboratory, which is a neighbor to the Santa Clara, San Ildefonso, and Ohkay Owingeh tribes, part of their outreach includes programs aimed to introduce Native American students to STEM education. The National Nuclear Security Administration and the Office of Environmental Management jointly fund the Santa Fe Indian School Community Based Education Model, training over six hundred and fifty 7-12 grade students from nineteen New Mexico Indian Pueblo governments.  
Los Alamos doesn't stand alone when it comes to outreach to Native American students and STEM. Sandia's American Indian Outreach Committee looks to local native communities and groups like the American Indian Science and Engineering Society to recruit students to come to Sandia, and programs like their Dream Catcher Science Program and their Diversity Science Engineering Expo help to attract qualified Native American students to work at Sandia.
While our proximity to tribally-owned land is an important guidepost to our consultation, it is also important to note that Tribal Nations are key participants in energy programs and producers and consumers of energy development and innovation. While Indian land comprises 5 percent of the United States, it contains an estimated ten percent of all our energy resources.
We need to work closely on a government-to-government level with Tribal Leaders, following the unique legal and political relationship with Indian tribal governments that is rooted in the United States Constitution, treaties, statutes, Executive Orders, and judicial decisions. The Department's breadth of programs and scope of operations makes it critical to ensure Indian Country has a seat at the table in addressing our America's economic, environmental, and energy security challenges. As we transform the way we use energy – reducing our energy bills, ensuring our security, and saving the planet – we will work in concert with Tribal Nations every step of the way.