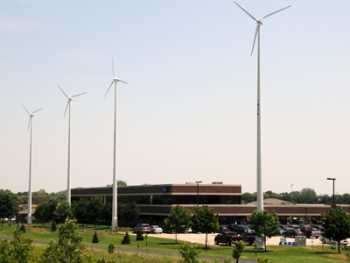 Renewegy, LLC received a $525,000 Recovery Act loan to help start its smaller-scale wind turbine business. This fall, the company will begin production on its first batch of turbine systems. | Photo courtesy of Renewegy
This time last year, Mary Jo Celichowski was at home in Oshkosh, Wis., unemployed and a little antsy after the motor parts company she was working at down-sized. Today, it's a bit different.
"We're extremely busy here," says the wind turbine parts buyer for Renewegy, which manufactures smaller-scale wind turbines.  Celichowski joined the company in January. "I am currently busy purchasing components for the 30 wind units we are going to start building."
Formed in 2008, Renewegy is tapping into the wind energy supply chain across Wisconsin and the rest of America to construct its first batch of wind turbine units — from 20kW to 100kW — pre-ordered by commercial clients, schools and farmers.
Renewegy uses a machinist for casting in Oshkosh.  The composite blades are manufactured in Milwaukee, and the towers are made in Nebraska.
"We've tried our best to keep the supplies U.S.-based," says Jeff Ehlers, president of Renewegy. "We believe out of the 16 jobs we've created here, 45 jobs have been created in the supply chain."
To start up the wind component of its business, the company had to raise $5 million. Most of the money came from investors and some came from loans – such as the $525,000 State Energy Program award, under the American Recovery and Reinvestment Act.  Ehlers says they used the Recovery Act loan to  purchase the equipment that will put all the parts together for the new and expected orders.
The company had just six employees last year, and expects to hire another three or four people on top of the existing 16 by the end of the year to keep up with production, which begins in a month.
Branching out
Wind isn't the only clean energy industry Renewegy services. When the company was formed — and gas prices were averaging $4 a gallon — it acted as middle man in hybrid vehicle manufacturing. Renewegy bought components, built hybrid engine systems and helped manufacturers integrate them into off-highway vehicles such as forklifts.
But when gas prices leveled off, demand for hybrids decreased, so the company decided to branch out into the smaller-scale wind industry.
"We started with a clean sheet of paper," Ehlers says.
The company spent most of 2009 investing, planning and making 10 test turbine units, one of which sits at the 40,000-square-foot Renewegy plant. Others were installed at businesses in Menasha, Wis., and Nebraska.
The company is still in the vehicles industry, but 90 percent of its recent efforts are focused on wind turbines, Ehlers says.
Now the company is working feverishly to start production of the 30 wind turbine units Celichowski has been tracking down parts for.
No worries, though, says Celichowski, who has 35 years of buyer experience under her belt: "We've got a good handle on it."