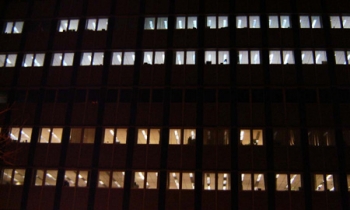 When this photograph was taken, the upper floors of Wisconsin's Department of Transportation were using a new lighting plan from EPS, while the lower ones were still using the pre-audit lighting scheme. | Photo Courtesy of Energy Performance Specialists, LLC
Wisconsin-based Energy Performance Specialists LLC is helping clients reduce energy consumption in a very simple way−by just using less.
EPS, which specializes in energy efficient commercial lighting, conducts lighting audits for properties and reduces the amount of lighting energy used by buildings on a daily basis. After an audit from EPS, companies can typically cut their light consumption by 50 to 80 percent.
EPS CEO Rod Heller says that a lot of companies underestimate the importance of lighting in their buildings. "We're lighting geeks, we're experts," says Rod. "People aren't getting lighting right, and we can help them fix that."
Many of the buildings that EPS works on were built before computers were an essential part of an office. Rod says that most clients are still using the same lighting schemes as they did 20 years ago. Today, with illuminated computer screens, their actual lighting needs are much less. "These buildings were built for paper tasks, not for computers and technology. A lot of the lighting schemes are out of date," says Rod.
When EPS comes for an audit, they begin by walking through the entire building, taking stock of what is already in place. "We always try to use what's there," says Rod. "It's the most cost effective way of doing things with the least amount of waste. Every now and then you can't, but we make every effort to use the existing features."
The lighting specialists then determine what the task is for that building or room−for example, a cafeteria and a computer lab have very different tasks, one for eating, and one for working−and design the system based that specific task. The team then makes a plan for the lighting, and begins work on the system. Depending on the design, this could include anything from changing just the lens to completely removing a fixture.
One way that clients save money is through EPS retrofitting their fixtures.  "Some fixtures are only letting out 60-65 percent of the light produced," says Rod. "If we can get that to 75-85 percent, that's 15 to 25% increase lighting by just changing the lens!"
EPS has seen an increase in business in the past two years; since 2008, the staff has doubled in size and now has 24 employees. Staffers work with clients on auditing, designing and installing lighting. One of the great things about energy efficiency, says Rod, is that clients see those savings year after year.
"When you can save your clients that much money, they're happy, you're happy, they're happy to pay you…everybody wins," says Rod.