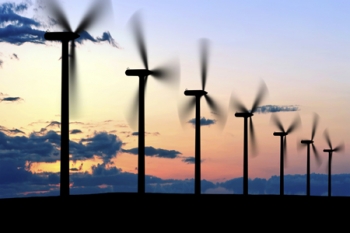 EnerNex Corporation is developing documentation and validating generic wind turbine and plant models that test reliability. | File photo
The steady increase of wind power on the grid presents new challenges for power system operators charged with making sure the grid stays up and running.
"We need to ensure that we are going down a path that will lead to better reliability [with wind power]," said Bob Zavadil, an executive vice president at EnerNex Corporation in Knoxville, Tenn., a firm specializing in renewable energy grid interconnection and integration. "If this piece isn't done, there will be problems."
EnerNex has spent the last decade perfecting wind turbine and plant models that test a wind plant's influence on the grid and its ability to provide grid support. In its latest effort, the company is using American Recovery and Reinvestment Act funds worth $750,000 to develop documentation and validations of computer wind turbine models.
These tools evaluate the influence of a wind plant's power fluctuations - caused by wind speed changes - on the grid. The work could lead to technical grid connection requirements and help break down one of the barriers in bringing on more wind power: making sure it's reliable.
Preparing for more energy
The North American Electric Reliability Corporation (NERC), an organization that seeks to ensure reliability of the North American bulk power system, notes that wind, solar and hydropower are considered "variable" sources of energy. Wind and the sun are not constant and could produce fluctuations in plant outputs.
Knowing exactly how wind plants affect the grid and its ability to withstand disturbances is key to keeping power flowing.
United States installed wind power capacity rose from 2,500 MW annually 10 years ago to almost 35,000 last year. According to a report by the U.S. Department of Energy Wind and Water Power Program, it is technically possible for the U.S. to reach 300 GW of installed wind power by 2030.
As the electric industry seeks to integrate large amounts of variably generated electricity into the grid, "considerable effort will be needed to effectively manage their unique operating and planning characteristics to ensure bulk power system reliability," said Mark Lauby, director of NERC's Reliability Assessment and Performance Analysis.
To address some of these issues, NERC formed a Wind Generator Task Force in December 2004, asking Zavadil, who has been in the power industry for more than 30 years, to serve as a member.
After the 2003 blackout in the Northeast and Midwest that left 45 million Americans without power, many people starting thinking about the continuing increase of new energy and its reliability.
"This was the driving force to create the task force," said Zavadil.
Three years later, NERC formed the Integration of Variable Generation Task Force to lay out recommendations for more integration. The need for standardized wind models, something EnerNex had been working on, was identified as a high priority in NERC's task report in 2009, titled "Accommodating High Levels of Variable Generation."
"Most transmission planning engineers in the U.S. recognize that proper computer models for wind turbines and plants are a vital and urgent need," Zavadil said. "On the present course, it would take another five to 10 years to accomplish something we hope to do with this project in just two years."
Making the transition easier
The goal of EnerNex's Recovery Act funded project is to accelerate the appropriate use of wind turbine and plant models across the country. The standardized models could be applied to all wind power systems to test reliability.
Zavadil says an outreach effort will begin next year about the models to engage the transmission organizations that expect to generate power using wind technology. When asked if his company's efforts will help bring more wind energy to the grid, Zavadil said there are many factors that come into play, including policy and the economy.
"However," he said, "[the models] will remove one of the barriers."