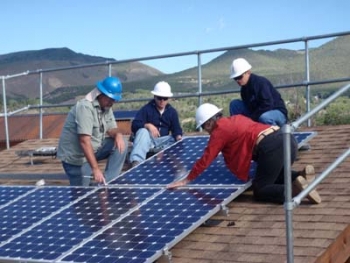 Participants in the Energy Department's Train-the-Trainers program in the Rocky Mountain region take part in a roof-mount solar panel install lab exercise at Solar Energy International's PV Lab Yard in Paonia, CO, in the summer of 2010. | Photo courtesy of Solar Energy International
When Johnny Weiss thinks about solar installations – and training the trainers, he sees big numbers.
"One goal is to penetrate as much as possible into the 3,400 community colleges [throughout America], so we can teach design and installation of solar throughout the country, says the executive director and co-founder of Solar Energy International (SEI).
Since 1991, SEI has been teaching people how to install solar energy equipment. So, when the U.S. Department of Energy was looking to support training for solar installation instructors -- that is, for someone to train the trainers -- SEI knew what to do.
Rocky Mountain forces
To meet the opportunity to shape the industry, Colorado-based SEI joined with Salt Lake Community College and the Utah Solar Energy Association to form the Rocky Mountain Solar Training Program (RMSTP).  Through a $991,867 Recovery Act grant, RMSTP offers solar installation training for hundreds of teachers in 15 states. 
It is one of eight Recovery Act grants through the U.S. Department of Energy dedicated to trainers in eight regions and part of the DOE's Solar Instructor Training Network, which supports solar energy by ensuring that training is available for solar technology installers.
For SEI, which also handles direct training of solar power installers, it's a bit like RMSTP organization is training its own competition. Weiss isn't upset about that.
"It's been small organizations like this one across the country that have been doing that training over the last 20 years," he says. "Now it's going mainstream. We're very excited about this."
Hands-on curriculum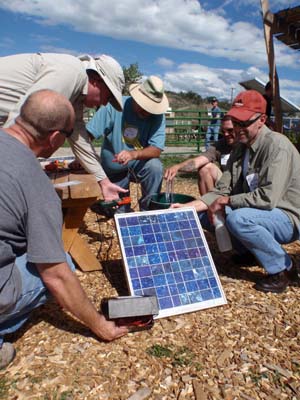 Participants in the DOE's Train-the-Trainers program in the Rocky Mountain region take a reading of a solar-powered water pump during hands-on training at Solar Energy International's PV Lab Yard in Paonia, Colo., in the summer of 2010. | Photo courtesy of Solar Energy International
Most of the people seeking training through RMSTP are building trades instructors at community colleges, Weiss says. They come to the RMSTP to learn how to teach their students to design and install two major solar technologies: photovoltaic panels and solar water heaters for residential and light commercial buildings.
For the first round of training, instructors from 20 schools across 13 states were chosen; training began this summer and will last 18 months.
In addition to funding the trainers, part of the grant funds also paid for equipment used in hands-on training, such as a mock roof with inverters, at SEI's Paonia, Colo. campus.
"It's not a downtown building, but it's a building that's mocked up to provide a controlled, safe, learning experience," he says. "We've got a couple of acres of property, and some are dedicated to providing outdoor, real-world lab situations."
Weiss compares this to a building trades class in carpentry or plumbing, where building and fixing things are routine parts of the curricula. In order for solar installation teachers to offer hands-on experience to their future students, the program offers the teachers a small stipend to set up a laboratory at home.
Students of students
Weiss says students -- who will eventually be trainers going through the RMSTP program - are likely to be the same kinds of building trades students in any field.
One difference is that most community colleges haven't offered solar installation courses until recently.
"I believe they didn't think... green jobs are a reality," he says. "Certainly photovoltaics are a rapidly growing technology that is being implemented all over."