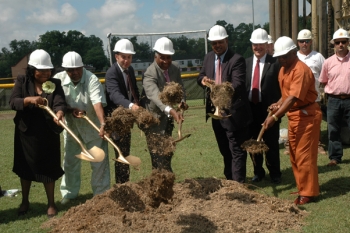 Birmingham Mayor William A. Bell, Sr., City officials, and DOE representatives at Monday's groundbreaking.
It seems like these days there's just no avoiding the heat. Whether we're in our homes, at our places of work, and certainly every time we step outside – there's no getting around the fact that it's hot out there. And while folks across the country are finding creative ways to stay cool this summer, thanks to a little help from the Recovery Act and a lot of hard work, the citizens of Birmingham, Alabama, are going to be able to beat the heat.
With a $2.4 million grant from the Energy Efficiency Community Block Grant (EECBG) Program under the Recovery Act, the City of Birmingham will turn seven recreation centers into the places to be on Birmingham's hottest days.
This week Department of Energy officials joined Birmingham Mayor William A. Bell, Sr., City Council, and community leaders for the ground breaking of an energy efficient HVAC system utilizing ground source heat pump technology.  This system will cool the gymnasium by utilizing the energy from the ground, not running up energy bills.
Mayor Bell told the group, "This project is welcome news for our city, particularly in this economy when local budgets are strapped and energy efficiency may take a back seat to providing basic services. We are thankful for funding for green projects, especially this one which creates a cooler environment for our children using these recreation centers." 
The City received an EECBG grant to fund "green" sustainable projects. The projects are chosen by the cities themselves, so those who best know the needs of their towns are able to pursue projects that everyone can benefit from. The recreation centers in Birmingham provide a place for the community to come together, including playing sports, community meetings, blood drives, education events and more.
"Cities like Birmingham are leading the transition to clean energy," said U.S. Energy Secretary Steven Chu. "By investing in innovative projects, like the new effort to add energy-efficient cooling systems at recreation centers, Birmingham is putting people to work, creating a better community quality of life, reducing energy use and saving taxpayers money."
As the "Recovery Summer" rolls on, more and more of the over 2,300 communities receiving EECBG grants across the country will be breaking ground on their energy-efficient projects. Funding for the EECBG Program under the Recovery Act totals $3.2 billion. Of this amount, approximately $2.7 billion was awarded through formula grants. In addition, approximately $454 million was allocated through competitive "Retrofit Ramp-up" grants. Energy efficiency is the fastest, cheapest way to cut carbon pollution and create jobs now, while saving families and businesses on their energy bills.