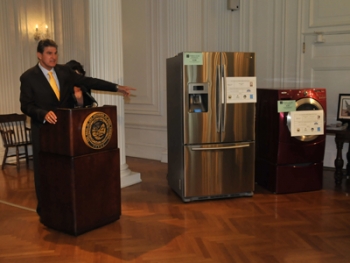 West Virginia Governor Joe Manchin announces the Energy Efficient Rebate Program in June. The state received $1.7 million in Recovery Act funding to encourage residents to purchase ENERGY STAR appliances. | Photo courtesy of WVDEP
West Virginians didn't waste any time in taking advantage of the Energy Efficient Appliance Rebate Program. Only three months in, and almost half of the available $1.7 million is already spoken for.
Turns out, the Recovery Act-funded rebate program, some manufacturer rebates and a three month tax holiday is the ideal trifecta to get more ENERGY STAR appliances in the Mountain State.
9,000 rebates
Under the rebate program, which launched in mid-June, residents who purchase an ENERGY STAR appliance can receive up to a $100 rebate, depending on what they buy and how many.
So far, almost 9,000 rebates have come in for clothes washers, refrigerators, room air conditioners, dishwashers and freezers. That represents about $718,000 in rebates.
"We created a process that was pretty simple," says Greg Adolfson, sustainability officer at the West Virginia Department of Environmental Protection (DEP). "Go online to do the application, get a rebate confirmation, send along a copy of the receipt and you get a VISA prepaid debit card."
Some manufacturers, like Whirlpool, are sweetening the deal by adding another $100 rebate for some of its appliances. And the sales tax—6 percent—is being forgiven through November.
"Great things are happening in West Virginia, and we're being very innovative," Adolfson says.
Big business
More ENERGY STAR appliances can only mean more business for the 89 participating dealer locations in West Virginia. In fact, Adolfson says many stores are reporting a 10 to 20 percent bump in sales over last year.
"It's done well. Consumers have taken advantage of the rebate to get the extra money," says Jay Jeffrey, vice president of operations for Jeff's Appliances, which has two locations, one in Charleston and one in Nitro.
"We expected laundry, but we've seen a good lift in dishwashers and refrigerators," he adds.
Jeffrey says sales were up about 20 percent in June and July compared to 2009—and that's before the tax holiday went into effect on Sept. 1.
"We keep bringing in more [to sell]," Jeffrey says.
Out with the old, in with the new
The rebate program is also falling right in line with the state's recycling efforts.
"We probably have one of the best recycling programs for a state that is primarily rural," Adolfson says.
As part of the agreement to participate, the dealer is required to recycle all old appliances obtained from residents.
 "It's so they can be properly dismantled," Adolfson says. "That's part of the deal."