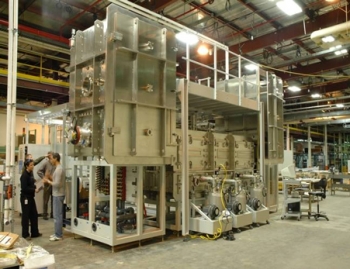 Solar films are manufactured at Precision Flow Technologies in Kingston, N.Y., facility. The factory once served as an IBM plant. | Photo Courtesy of Kevin Brady
These days in New York, it seems whatever The Solar Energy Consortium (TSEC) touches turns to green. 
The nonprofit has been building up a supply chain across the state for the last three years by helping companies bring on new, solar-related manufacturing processes and jobs.
It helped turn a decommissioned IBM plant in Fishkill, N.Y., into a solar cell plant. An old Panasonic facility in Highland now makes solar panel films with the same equipment that used to make plasma TVs. 
And most recently, it assisted Precision Flow Technologies, a semiconductor company in Saugerties, in converting a defunct IBM plant into a solar technology equipment factory, an effort that more than doubled its staff.
"We were founded to help grow the solar industry in New York, basically to create one," says Vincent Cozzolino, TSEC founder and co-CEO. "We bring solar device manufacturing here—for existing companies that want to morph or start ups that want to produce something."   
And the list goes on. Today, there are over 75 companies in this New York supply chain, all producing different solar technology parts.
"At the center of that web is TSEC," says Cozzolino.
The consortium has secured over $7 million in federal funding, including grants from the Department of Energy, to support its efforts to grow New York's solar industry. TSEC brings a variety of business and university leaders to the table to communicate, collaborate and advance the technology forward and contribute to this burgeoning supply chain.
More solar, more jobs
Precision Flow Technologies, which historically made semiconductor machinery, is one of TSEC's most successful efforts.
"When the semiconductor business started to have the typical ebb and flow, we decided to branch out," says Kevin Brady, president of Precision. "Once we identified this, we reached out to [TSEC] to help us stay on top of the technology curve."
In 2007, the company decided to move into the renewable field by making solar technology support systems, fuel cell test systems and solid-state LED production equipment used in electronics.
The addition proved worthwhile. "What started to rise to the surface was solar and LEDs, so we put all our resources into that," Brady says.
Last year, Precision added more products to the list: large-scale machines that make solar panels and the support equipment to run them. The company expanded its operations and took over 100,000 square feet last year at the old IBM plant in Kingston, N.Y.  It is planning to take over another 65,000 square feet by the end of this year. 
Overall, because of TSEC, 800 new manufacturing jobs will have been created in the state by the end of 2010, according to Cozzolino. By the end of 2011, Cozzolino says that number will be 1,400.Precision had 80 employees in 2009 and added 190 new jobs in 2010. Brady expects to have 450 employees by the end 2011.  The $1.2 million facilities upgrade will create another 31 jobs.
"When we talk about green jobs, we are talking about factory-related jobs," he says. "Our goal is to increase the number of new jobs in this industry."
Why solar in New York?
The TSEC was started by Cozzolino, a former IBM executive, Petra Klein, a former hospital executive and Carl Meyer,  a retired president of Central Hudson Gas and Electric, to build up a solar energy industry, a field none of them were involved in.
But three years ago, Congressman Maurice Hinchey, a longstanding proponent of a local, clean energy economy, asked why solar energy wasn't pervasive there. The question resonated with Cozzolino and others.
"He forced us on a path to answer that critical question," says Cozzolino.
They realized that in order to bring solar—and jobs—to New York, industry was going to have to take the lead. "We need to execute to keep this industry flowing," says Cozzolino. "But you also have to move at a speed to keep up with the growing technology in order for it to be successful. And only industry knows how to move that fast."