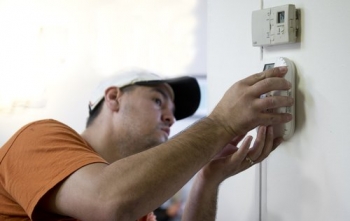 Brian Bernal installs a carbon monoxide detector for a homeowner participating in the Weatherization Assistance Program in Loveland, CO. | Credit: Dennis Schroeder, NREL.
Last week, we told you about the more than 750 thousand homes weatherized by the Department's Weatherization Assistance Program. Secretary Chu spoke with governors and members of Congress around the country to celebrate this huge accomplishment -- which was finished ahead of schedule. Saving energy in homes saves money for families. In fact, weatherization saves the average household $400 annually on their heating and cooling bills.
Throughout the last month, several news outlets from across the country also covered this achievement. We've compiled some of the highlights that we came across in the list below.
Today, Governor Brian Schweitzer and the US Energy Secretary announced a milestone in Montana's energy efficiency. More than 6,800 homes have been weatherized over the past 3 years in Montana…  
Sixteen thousand low-income families in Washington state have taken advantage of a federally-funded program offering free home weatherization. That figure covers the past three years when the subsidy program got a big boost from the federal economic stimulus bill…
Wisconsin has hit a milestone with the weatherization of 30,500 homes over the past three years, Energy Secretary Steven Chu said Friday.
"The average American spends $2,000 on energy used in the home; weatherization services lower energy bills," Chu said. "On average families save more than $400 on heating and cooling bills during the first year after they are weatherized."…
Gov. Mark Dayton and U.S. Energy Secretary Steven Chu are marking a milestone in the effort to make homes more energy efficient…
The federal low-income Weatherization Assistance Program (WAP) has been a highly successful and effective investment in the Americanworkforce and for low-income families nationwide. In fact, WAP is the largest residential energy conservation program in the nation and performs a vital role in reducing the burden of high energy prices on low-income families.
Visit the Weatherization Assistance Program website for more information about the program, and see energysavers.gov for tips on how you can save energy and money in your own home.