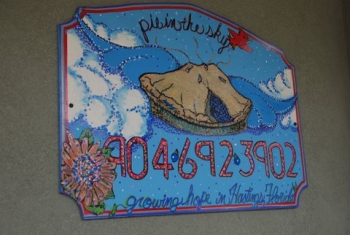 Malea Guiriba uses a portion of profits from her pie business to fund weatherization projects for local residents. | Photo courtesy of Malea Guiriba
Pie in the Sky, a seemingly simple store that offers customers fresh-baked desserts, is providing a second treat: weatherization.
Local resident Malea Guiriba opened the pie shop in the small town of Hastings, Fla., last summer and started using part of the store's profits to help weatherize homes of low-income residents in the area. She did all the work herself and had no salary.
That changed in April when she teamed up with St. Johns Housing Partnership, a local service provider in nearby St. Augustine: more homes got weatherized in her hometown and she got paid for her efforts.
St. Johns, which is funded through the Florida Department of Community Affairs, typically weatherizes 20 homes a month in St. Johns County (mostly in St. Augustine). Their work helps  eligible residents cut their utility costs and improve their homes energy efficiency. But at 20 per month, the agency wanted to increase that number.
Teaming up with Guiriba was a good way to weatherize more homes in Hastings, which only has 500 people. "We're sort of the rural outpost [for St. Johns]," Guiriba says.
St. Johns is using some of its Weatherization Assistance Program funds allocated through the American Recovery and Reinvestment Act to pay for Guiriba's hourly wage while she completes the weatherization work. She now works about 30 hours a week on weatherization.
The agency also covers part of Pie in the Sky's monthly rent, as well as donates weatherization materials for Guiriba's crew of volunteer workers.
Prior to the partnership, she was only able to start work on a few homes. Now Guiriba has 16 weatherization projects in various stages, with many close to being completed.
Because of the Recovery Act, St. Johns Housing Partnership received an additional $1.5 million to weatherize an estimated 200 homes of low-income residents.
"It's like a big bake sale," Guiriba says.
The store also acts as an office for Guiriba to accept weatherization applications. On a typical day, she says she usually receives 15 to 20.
A pie of an idea
The idea for pie came to Guiriba last summer when she realized how few dessert options there were in the area, as well as the number of substandard homes.  She then opened her store to provide treats for the locals and decided to use the extra funds to weatherize the homes for "people who fell through the cracks of other programs."
Bill Lazar, director of St. Johns, says the partnership with his housing agency started when his organization worked with Pie in the Sky during a day of volunteer work in June 2009.
The two organizations helped build handicap-accessible ramps for a Hastings resident.
The collaboration proved successful, and Lazar decided he wanted to help sustain Guiriba's weatherization services.
"It just seemed like this could be a good place [to weatherize homes]," Lazar says. "Everything worked out great.