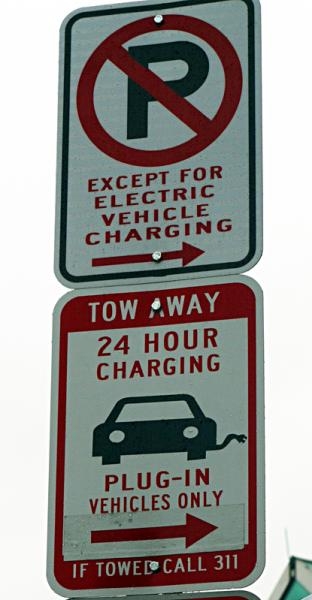 Street signage for Washington, DC's first electric vehicle charging station located on the northwest corner of the intersection of U and 14th streets. | Department of Energy Photo |
It's always exciting to attend a grand opening, especially when it represents a "first" for an entire region. Yesterday, the U.S. Department of Energy and the city of Washington, DC joined together to celebrate the installation of the first public electric vehicle charging station in the bustling U Street neighborhood.
While the rainy weather provided a little gloom, the outlook was decidedly sunny, with Acting Under Secretary for Energy Cathy Zoi providing context for this momentous event. "We're now on the cusp of the next exciting chapter in our love affair with the automobile: the arrival of plug-in cars that are cost-effective, convenient and comfortable," she said.
Secretary Zoi explained that this charger, the first of hundreds in the greater metropolitanDC area, is only part of the Department of Energy's much larger nationwide effort. Part of a Recovery Act project by Coulomb Technologies, this charger is only one of nearly 5,000 charging stations that will be installed in nine cities across the country.
In total, the eight Recovery Act plug-in electric vehicle demonstration projects will deploy more than 13,000 grid-connected vehicles and install 23,000 charging stations in residential, commercial and public locations.
In addition to federal investment, many cities are working to ready themselves for plug-in electric vehicles. As D.C. Mayor Adrian Fenty remarked, "This is a day that has been long waited for in D.C." Because my job focuses on community deployment of alternative fuel vehicles, I was thrilled to share in this moment.
But as a spectator, the sense of normality was perhaps the most rewarding part of the entire event. The charger itself, with its pedestal style, simple connector, and credit card reader, fit in perfectly with the curb-side parking meters and nearby bike sharing station. Plugging in the GM Volt was as intuitive as pumping gas. 
This event today will be the first of many, as both plug-in electric vehicles and their infrastructure spread across the country. But I know that we at the Department and our counterparts in cities nationwide look forward to the day when these chargers are so common that they are just part of the everyday landscape.