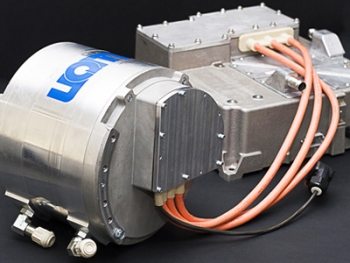 UQM will manufacture electric vehicle propulsion systems like this at its new facility in Longmont, Colo. | Photo courtesy of UQ
Business is booming at UQM Technologies, a Frederick, Colo.-based manufacturer and developer of electric vehicle propulsion systems.
Last summer, UQM signed a 10-year contract to build motor and control systems for all electric cars to be manufactured by CODA Automotive of California. UQM aims to produce 20,000 of the propulsion systems over a two-year span.
To accommodate the increase in production, UQM purchased a 129,000 sq. foot building, four times the size of the original facility.  UQM used a portion of its American Recovery and Reinvestment Act grant through the Department of Energy's Vehicles Technologies Program to pay for part of the $7.5 million facility in Longmont, Colo.
The expansion has been "a thrill ride," says UQM president and chief executive William Rankin.
The company expects to add 230 jobs by next year, growing its workforce from 70 to 300.  "The bulk of the jobs will be assemblers," Rankin says. More workers will be hired when UQM's build out is complete. "A lot of support functions will be required to run a business at this level," he adds.230 production jobs
A flurry of activity is underway at the facility as expansion begins. "We are currently setting up the production lines," says Rankin.  When the facility is at full capacity, UQM expects to pump out "80 [propulsion systems] a day," he says.
Compact, but powerful systems
The systems UQM developed for Coda cars are compact, measuring 11 inches in diameter, 10 inches long and weighing 11 pounds. Despite their small size, the units are powerful, generating a peak of 100 kilowatts (134 horsepower) of energy.  "They are very sophisticated," Rankin says.
UQM has a long history in the electric vehicle industry. The company formed in 1967 and originally built fiberglass parts for planes and kit automobiles. In the late 1970s, UQM's focus switched to manufacturing Electrek—an electric car.  Following Electrek's development, the company invented a core permanent magnet motor. UQM has created extensions of the technology ever since.  "We have been at this a long, long time," says Rankin.
The company has witnessed a sea change in the clean fuel vehicles sector over the past two years.  Government incentives have enabled consumers to buy green vehicles at reduced rates and private and public partnerships have blossomed. "Billions of dollars are being provided in grants and low interest loans to support the infrastructure and launch of vehicles, batteries and other components," Rankin says. He says the result is a "perfect storm" for the industry.
He says UQM will assist electric vehicle manufactures in the future as America's clean energy economy expands.  "Our expectation is to grow in serving these opportunities."
"For us, the sky's the limit," Rankin says.