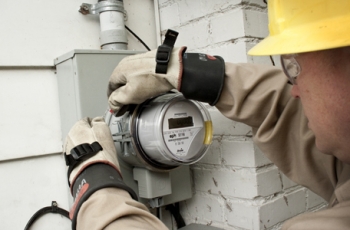 An employee installs a smart meter as part of a smart grid initiative by EPB. The project is supporting 390 jobs in the Chattanooga area. | Photo courtesy of EPB
"Last winter I received a call from my son saying he had a $400 electric bill one month," says David Wade, executive vice president and COO for EPB in Chattanooga. "We eventually learned that his heat pump had broken, and he had been running on emergency heat all month."
For Wade and other officials at the electric power service provider, these types of problems can be avoided through the smart grid; it allows two-way communication between the various electrical grid components.
"Communication between devices leads to more information which in turn leads to better overall service," says Wade.
To achieve this type of service, EPB is currently in the process of installing approximately 170,000 smart meters and 1,500 automated switches into its service area.  
Wade says the thousands of meters will help the local economy by providing more reliable electric service to businesses and residents.
A faster timeline"The current cost of power interruptions is phenomenal. And the changes we are making will help us reduce outage time and impact area by 40 percent or greater," says Wade. "That will translate into huge benefits for businesses and residents."
EPB started the project in 2008 with a funded investment of $169 million. Officials estimated the project would have several phases and would take eight to ten years to complete.
A $111 million Smart Grid Investment Grant through the Recovery Act allowed EPB to accelerate the project's timeline and expand its scope. Officials now say the project will be completed by 2012 and will include additional automation that was not part of the initial planning.
Over the course of the project, EPB will employ 390 contractors to install meters, switches and accompanying equipment. These jobs would not exist if EPB was not constructing a smart grid.
Better customer service
The addition of smart meters and switches to the grid will provide EPB employees with close to real-time data on electricity use in the service area. This will allow them to identify common problems that can cause customers to receive high electric bills.
 
Wade says that EPB receives calls from customers similar to the one he received from his son on a regular basis; smart meters will help to eliminate these types of situations.
"Once the smart meters are feeding us real-time information, we will be able to alert a customer anytime there is an unusually high spike in electricity use and send a technician to find out what the problem is," he says
Looking towards the future
Wade estimates the smart grid project has the potential to provide a $300 million value to EPB and its customers over a ten-year period.  This direct value will be realized in a variety of ways including a reduction in equipment costs, reduction in the cost of electric power theft, customer tools and resources to help manage energy use, reduction in demand, and improved reliability, to name a few. 
But the crux of the project is developing an infrastructure that can provide consumers with all the information they need to monitor electricity use and make better decisions about consumption patterns.
"We want to allow our users to manage their electricity use without sacrificing comfort or convenience, and we will be developing a whole portfolio of projects that will be able to work with the meters and our grid to achieve this," he says.