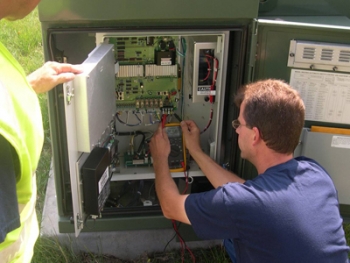 Technicians implement smart meters as part of the Naperville Smart Grid Initiative, which is projected to save the city $3 million a year over a 15 year period. | Photo courtesy of Naperville
Naperville, Ill. is home to some very environmentally conscious people.
The city's voluntary renewable energy program ranks fifth in the country in terms of customer participation rate.  What this means is that 9.2 percent of Naperville's residents volunteer to pay an extra $5 or more each month on their utility bill. These payments help  the city purchase more energy from renewable sources.
Now, officials are preparing to improve the city's long-term electricity distribution through the implementation of the Naperville Smart Grid Initiative (NSGI). Once it is completed, electricity usage will be reduced enough to save the city $3 million a year over a 15-year period.
Grid efficiency and reliability
Nadja Lalvani, the City of Naperville's community relations manager, says the initiative is simply the continuation of the efforts to increase grid efficiency and reliability.
"Naperville has owned and operated an electric utility for more than one hundred years. And over the past two decades, the city has strived to make the electric grid as efficient and reliable as possible," Lalvani says. "The Naperville Smart Grid Initiative will enable us to complete the automation of our electric grid and provide our residents and businesses with more reliable and efficient service."
According to Lalvani, NSGI has also created nineteen local jobs. Four of those jobs are with the City of Naperville, and fifteen are with private contractors.NSGI was initially conceived in 2007 and was projected to take between ten to fifteen years to complete. But an $11 million U.S. Department of Energy Smart Grid Investment Grant awarded to Naperville via the Recovery Act allowed the city to move faster. Officials now say the project will be finished by April 2013.
Smarter meters = smarter grid
The crux of NSGI is the deployment of 57,000 smart meters throughout Naperville's grid and the installation of accompanying software that will support a two-way flow of information between Naperville's utility and its businesses and residential customers.
According to Lalvani, the smart meters will provide consumers with a wealth of information that their current meters do not have the capacity to supply.
"The smart meters will provide information on exactly how much electricity is being used and will allow business and residential customers to efficiently use electricity and save money, if they choose to take advantage of that feature," says Lalvani. "We are not pushing consumers to change how much electricity they use, but we want to provide them with the tools and information needed so they can reduce electricity use if they choose to do so."
The meters will also allow the city's utility to better regulate energy distribution by providing them with accurate, up-to date information.
Lalvani says this will allow the utility to reduce line loss and respond quickly to power outages.
"In the past, we may not have been known there was an outage until we were notified by a phone call, but the smart meters will allow us to get that information immediately so we can dispatch workers to reinstate service."