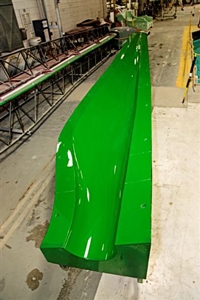 Energetx Composites was able to purchase equipment such as this mold for utility-scale wind turbine blades thanks to a Recovery Act grant that matched the company's $3.5 million investment. | Photo Courtesy of Energetx |
Near the eastern shore of Lake Michigan, there's a shift taking place.
Tiara Yachts makes fiber composite structures for boats. Now the Holland, Mich.-based company is transforming part of its factory and using its 30 years of expertise in composites to establish a new company - Energetx Composites - that will produce commercial-sized wind turbine blades.
The effort to produce wind turbine blades at Energetx is funded in part by the U.S. Department of Energy's State Energy Program, which provided a $3.5 million grant through the American Recovery and Reinvestment Act. Energetx provided a matching investment of $3.5 million. The money is being used to retool portions of Tiara's existing plant to manufacture utility-scale wind turbine blades.
Change in the wind
Vice President of New Product Development Kelly Slikkers says the birth of the new business is part of a vision the officials has had for a few years now.
"Our yachts business is just as viable today as it has always been, and we're still committed to the marine market," he says. "But we also have always tried to look at diversification as a way to provide more products that fit in with our expertise and that can put more Michigan people to work."

"We found we can use our core competencies in composites skills in other industries too," Slikkers says. "Because we have 50 years of experience in composites, we're known for being very good at what we do, so when people were at wind conferences or supply chain events, they always came back and told us all they could think about was us - we investigated the industry and decided to run with it."Because yachts are considered luxury products, Slikkers says business goes away somewhat if the economy has a down year, which impacts the lives the company's workers and their families. To address this issue, top executives met three years ago in a planning meeting to find ways to spark growth during those less-productive years.
The Recovery Act funding is helping Energetx with the upfront costs of retooling some of the company's manufacturing capabilities for wind industry products. Specifically, the mold sets for large wind blades are very costly.
Hiring predicted
Energetx also needs more hands on deck to ramp up production of its new product. They've already begun hiring more employees and training them for wind blade manufacturing, and the company is also looking for professional personnel in fields such as quality control and engineering to support Energetx's efforts. The company currently has 23 employees but expects to be about 160-strong by summer 2011.
The manufacturer has also partnered with Grand Rapids Community College to develop a composites technician program from which it can recruit new employees. The company hired nine graduates of the program's first class.
Slikkers expects Energetx to release its first prototype blade, currently in the engineering phase, later in 2010. The blade will be constructed and sent to a laboratory for testing early next year, and then the company expects to see its first sets of blades installed during spring 2011, which will provide them with a functional model to show customers as Energetx goes to market with its blades - a market Slikkers believes Michigan has the foundation in place to contribute to for years to come.
"I believe there's a good opportunity here," he says. "I believe the renewable energy market will be a strong one, and I think Michigan has huge potential in it. The U.S. needs a strong energy policy that drives sustainability, and I think we have the resources - the people - here who can play a major part in the clean energy economy."
This project was highlighted in the Vice President's report on 100 Recovery Act Projects That Are Changing America