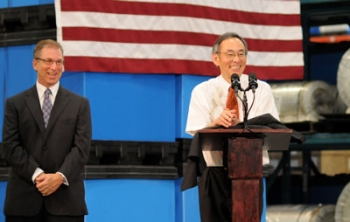 Charlotte sees next-gen vehicle supply expansion: U.S. Energy Secretary Steve Chu speaks at Celgard LLC in Charlotte, N.C. as Mitch Pulwer, Celgard's vice president and general manager, looks on. | Photo courtesy of Celgard |
Right now, manufacturers of electric cars too often have to rely on foreign suppliers for the high-performance batteries needed in those vehicles. But a new project underway at Celgard LLC in Charlotte, N.C., with help from stimulus funding awarded by the U.S. Department of Energy, will enable the company to supply more of a key component in high-performance batteries, helping the U.S. get ahead of the curve in establishing a supply base for electric cars that isn't reliant on other countries.
Celgard, a wholly-owned subsidiary of Polypore International Inc., is one of the largest participants in the U.S. lithium-ion battery supply chain. Celgard's products are highly engineered separators that play a critical role in the performance and life of lithium-ion battery cells by providing a barrier between the negative and positive parts of a battery, which prevents short circuits and controls the exchange of lithium ions from one side of the battery to the other. These separators are used in batteries for consumer electronic devices such as laptops, cell phones, digital cameras, power tools, reserve power systems and electric-drive vehicles."We look forward to playing a key role in supporting the nation's goal to develop a technology-leading advanced battery industry in the United States, including a robust supply chain for the critical components," Mitch Pulwer, vice president and general manager at Celgard, says. "This grant will enable us to accelerate investment in production capacity and create jobs in the U.S. as we prepare to meet the increasing demand of the electric-drive vehicle market."
The company plans to add sufficient capacity in the U.S. to manufacture enough separator material to support the assembly of at least 20,000 plug-in hybrid vehicle batteries per year. The company will implement its capacity expansion in two phases. In the first phase, Celgard will add capacity at its existing Charlotte location.  In the second phase, Celgard plans to build capacity at its new facility in Concord, N.C.
Expansion of the Charlotte facility will start immediately.
Construction of the new facility in Concord is expected to begin the second half of this year. Celgard plans to begin hiring right away to support the project, which will be completed by the end of 2012. The total cost of the production capacity expansion is approximately $100 million, with almost half covered by the DOE grant made possible through the Recovery Act. The project is expected to create more than 200 jobs at Celgard over the project term, plus another 1,000 during construction for contractors and other suppliers.
This project was highlighted in the Vice President's report on 100 Recovery Act Projects That Are Changing America