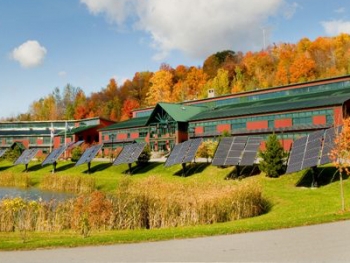 NRG's new building utilizes solar power, but their products measure wind potential. | Photo courtesy NRG Systems
NRG Systems, of Hinesburg, Vt., has made products to help its customers measure and understand the potential of wind energy since 1982. Now, because of additional opportunities the Recovery Act has created for renewable energy companies, small businesses such as NRG Systems are poised to grow with the increased demand for proven wind measurement and turbine control equipment.
NRG Systems' customers are primarily developers, utilities and research institutions who want to measure the wind resources at a particular site to determine if the area is viable as a future wind farm.
"We didn't receive any grants directly from the Recovery Act, but some of our customers did," Abby White, the company's corporate communications lead, says. "Even without being a direct recipient, the fact that our customers were able to gain access to grants helped us continue to operate and hold our ground during the economic downturn."
Jan Blittersdorf, NRG Systems' CEO, made a commitment to keep every employee on board during the recession, and not a single one of the company's 112 employees, a mix of manufacturing and office workers, was laid off. The company was growing at about 30 percent each year until the recession when access to capital became scarce, affecting its customers dramatically. However, the Recovery Act and programs such as its 1603 renewable energy grants enabled those customers to move forward with some projects.
"We've remained steady, and the Recovery Act has helped," Abby says. "Now that credit is becoming easier to access, we're seeing an uptick in sales. This is looking to be a better year already."
David Blittersdorf founded NRG Systems in the '80s, after growing up near the first large grid-connected wind turbine at Grandpa's Knob in Vermont. He noticed the opportunities in wind measurement as a niche in the industry because, just as with oil and natural gas, renewable energy developers need to know what resource potential is present before they begin extracting. During the next several years, NRG Systems saw energy policy in the U.S. lag and had to sell much of its products overseas, but current policies and programs — such as the Recovery Act — are making renewable energy a priority in America. Today, NRG Systems is up to selling 50 percent of its goods domestically.
"The Recovery Act sustained the industry in a tough year," Abby says, "but what we need now is consistent, long-term federal policy to create the certainty manufacturers, like NRG Systems, need to continue to grow and create new jobs."