The ASP flooding technique is helping to retrieve 65-75 barrels of oil a day, an increase from the previous retrieval of 16 barrels a day. | Image by Hantz Leger.
In Lawrence County, Illinois, a 106-year-old oil field had peaked and was in decline for oil recovery. Oil still remained in the field, but it became increasingly difficult to recover. Production on Lawrence field was only removing 16 barrels of oil a day. That is, until now.
An innovative pilot project, supported by the Energy Department and operated by Rex Energy Corp., uses an alkaline surfactant polymer (ASP) flooding technique that has helped quadruple production from the Lawrence field. This extraction method is now pulling 65-75 barrels of oil a day.
The flooding technique is very similar to washing dishes. The field is injected with a water-based chemical solution consisting of alkaline, surfactants, and polymers. These three chemicals can only do so much on their own; but, when combined together, they work to separate the oil from the field very effectively.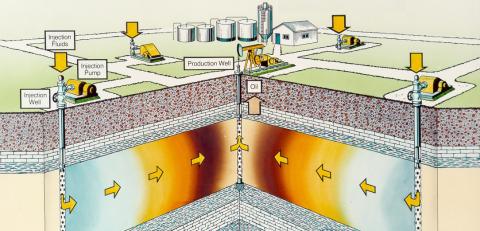 Alkaline works to help lower the bond attachment between the oil and the field. Then surfactant works as a soap to break the oil free. Finally, the polymer is used to thin the oil or thicken the water -- making the oil move more freely. Rex Energy is already seeing the success of this technique.
This project -- tested on a 15-acre part of the field -- increased the oil captured from 1% per acre to 12% per acre. Rex Energy plans to expand testing on the field. If successful, Rex Energy could recover as many as 130 million additional barrels of oil just from Lawrence field alone.
This project could be expanded to similar depleted fields across the country -- increasing domestic oil production and job creation. The Energy Department is committed to the continued support of new enhanced oil recovery technologies that can help unlock the potential of some of America's depleted oil fields, and also to find ways to put carbon pollution to use in tapping those resources safely and responsibly. This work is just one way that the Energy Department is using innovative ideas and critical investments to reduce our dependence on foreign oil.