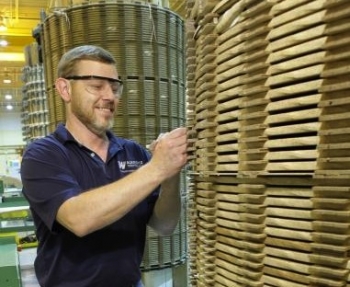 Bob Wilds working at a winding machine. | Photo Courtesy of Waukesha Electric Systems
Bob Wilds has worked at Waukesha Electric Systems for the last 12 years as a coil winder.  Waukesha Electric Systems makes transformers -- an essential part of the electric grid, transferring electrical current from one circuit to another. The coils that Bob works with are one of the most important components that make transformers work. The component involves winding insulated copper wire, but workers involved in transformer manufacturing have specialized in tasks that range from wood and corrugate cutting to running heavy machinery.
According to Bob, Waukesha Electric maintains a very self-contained process. Waukesha Electric has been manufacturing transformers since the 1970s and is expanding so it can produce large and extra high voltage power transformers that will help modernize our electric grid.  The company manufactures the majority of everything that goes into their transformer on site.
"We try to keep control of all those variables to make a better product," he said.
And now Bob is redirecting the specialized expertise he's built up over the years to help train some of the 250 new workers Waukesha Electric is hiring as part of the plant expansion that will allow the company to build large transformers in addition to the medium transformers already built at the Wisconsin facility.
"I just started this position three weeks ago," he said of his new opportunity as a Training Specialist.
Bob and Waukesha Electric are taking the need for specialized training very seriously. Bob and other employees have always undergone training when new technologies changed the game -- like when computerized technology for the new vertical winders arrived a few years ago.
"There's always something new," Bob noted. "You have to be able to adapt and change with it."
It takes months, even years, to specialize in the processes necessary to build transformers. And keeping up with new technologies is essential because workers are, "even from day one, just every day, constantly learning something new."
But it's not all work for Bob. When he's not preparing to train the new Waukesha Electric coil winders, he volunteers at the local Reserve Center -- his wife has been a Navy Reservist for 22 years. He also competes in a local electronic dart league. A few years ago when he was still practicing regularly, he was even ranked ninth in the state of Wisconsin.
If Bob trains new workers as well as he trained for electronic darts, the new workers will be in great shape moving forward.