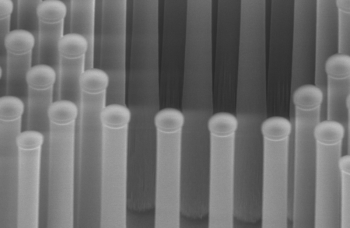 Tiny silicon pillars, used to absorb light. When dotted with a catalyst of molybdenum sulfide and exposed to sunlight, these pillars generate hydrogen gas from the hydrogen ions liberated by splitting water. Each pillar is approximately two micrometers in diameter. | Photo courtesy of Christian D. Damsgaard, Thomas Pedersen and Ole Hansen, Technical University of Denmark
In a key step towards advancing a clean energy economy, scientists have engineered a cheap, abundant way to make hydrogen fuel from sunlight and water. The team -- led by SLAC National Accelerator Laboratory researcher Jens Norskov -- paired a molybdenum sulfide catalyst with a light-absorbing electrode to split water into its components.
 
Hydrogen is an energy dense fuel, which releases water upon combustion. Today, most hydrogen is produced from natural gas which results in large carbon dioxide pollution. An alternative is called photo-electrochemical (PEC) water splitting. When sun hits the PEC cell, solar energy is absorbed and used to split water molecules into hydrogen and oxygen. However, the process requires a catalyst and while platinum is already recognized as an efficient catalyst, its high cost makes widespread use difficult.
To create a cheap, abundant catalyst, the team investigated hydrogen-producing enzymes (natural catalysts) from certain organisms. This research led them to related compounds, which eventually brought them to molybdenum sulfide.
Meanwhile, researchers at the Technical University of Denmark engineered light absorbers designed to capture as much solar energy as possible. The absorbers consist of closely packed silicon pillars and each pillar is dotted with tiny clusters of molybdenum sulfide. When the scientists exposed the pillars to light, hydrogen gas bubbled up -- as quickly as if they had used platinum.
 
Up next, the team is focusing on finding a good catalyst for the oxygen-generating side of the PEC cell. While one side generates hydrogen gas, the other produces oxygen gas.These scientists, among many others, are working on finding catalysts and sunlight absorbers that facilitate this reaction as well.
 
Looking forward to solving this challenge, Norskov noted, "A sustainable energy choice that no one can afford is not sustainable at all. I hope this approach will enable us to choose a truly sustainable fuel."