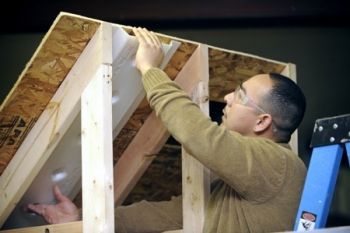 Daniel Tello demonstrates how to prepare an attic space for insulation using skills learned from the First Choice Program. | Photo courtesy of HCDC, Human Capital Development Corp., Inc. and Scott Anderson
On graduation day, students at Human Capital Development  Corp., Inc. (HCDC) leave with more than just a diploma. They receive a hard hat, tool belt, hammer, utility knife and a tape measure.
Graduates from Racine, Wis.-based HCDC First Choice Program are literally ready to go to work. Now, in addition to being trained in various areas of construction, they can also tackle residential weatherization services.
"We try to integrate weatherization more as we develop the construction curriculum," says Michael Cook, the construction concept trainer at HCDC. "Every class is getting more of it."
HCDC's weatherization classes are part of the First Choice program, which helps prepare students for the construction industry. Students go through a three-step program, and upon completion, are added to a pool of job-ready workers for local contractors to hire.
The program is divided into three parts. In the first stage, which acts as a prerequisite for the program, students learn life skills like money management and nutrition.
Job training begins during the second portion of the program. Students learn to handle power tools, learn safety and fall prevention techniques needed for construction site safety, and complete confined space training first aid and CPR training.
The third part of training at First Choice preparing students to learn more about specific trades and apprenticeships in their chosen field. 
"We want to make sure the graduates are completely ready in the workplace," says Olatoye Baiyewu, HCD's executive director. "We want to give our students the skills that will get them hired before competitors." HCDC will facilitate up to five classes of First Choice training this year, and enroll about 20 students in each class. The students are mainly a diverse group with ages ranging from 22 to 54.
During this second step, students spend two full days studying weatherization. They learn to retrofit existing homes, how to modify ventilation and practice energy saving techniques during new construction. They also do hands-on training by building and insulating a wall, adding safe barriers on outlet covers and foam siding insulation.
"We want our graduates to be ready for any new building that's being built now and have the skills to work on a green structure," says Michael.
In addition to a competitive edge, the training gives students the knowledge to weatherize their own homes. "The training gives students something they can take and use in their own lives to save money," says Olatoye.
"With all the publicity around green technology, they're receptive to learning about this," says Michael. "Students sense that this isn't something that's coming and going away quickly. They want to be one step ahead of the game and be ready for these green jobs."