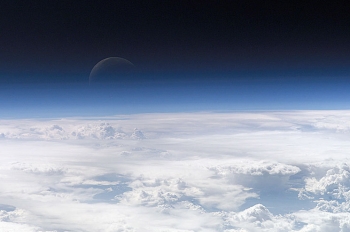 The Energy Department's Los Alamos National Lab is tracking Santa Claus as he circles the globe the night before Christmas.
Every year since 1998, the Energy Department's Los Alamos National Lab has been using state-of-the-art technology to track Santa Claus as he circles the globe the night before Christmas. You'll be able to monitor St. Nick's journey here starting at 6 a.m. ET on Christmas Eve.
Since Santa doesn't file his flight path with the Federal Aviation Administration, Los Alamos uses the latest technology to track his whereabouts on the globe, particularly the Cibola Flight Experiment (CFE) and Fast On-orbit Recording of TransientEvents (FORTE) satellites.
The CFE satellite was built by Los Alamos National Lab, and FORTE was also built in partnership with Sandia National Labs. These mark a significant technological leap in the size of satellites and their abilities. They were originally put into their low-earth orbits (meaning an altitude of 1,200 miles) to help detect nuclear detonations and study lightning from space.
These "event-tracking" satellites track Santa in a few ways. First, just like anything else in flight, the sleigh carries a transponder, which can be detected with the receiver that flies on-board the FORTE and CFE satellites.
Second, the CFE satellite, launched March 2007, has a new type of on-board supercomputer that enables Los Alamos to develop new capabilities after launch to enhance our ability to search for Santa. Because they can continue to advance our detection capability with this new computer, new launches are not as necessary.
And new this year to help with the tracking of Old Saint Nick are the Prometheus CubeSats that were launched in November 2013.
According to Santa Tracker Head Researchers and CFE Project Leader Diane Roussel-Dupre, "We believe that Rudolph's glowing, bright red nose puts out optical and infrared light that makes him easy to detect, allowing an optical camera on FORTE to give us a glimpse of Santa and his team."
They can even use their star cameras on the CFE satellite to look for Rudolph and the rest of the reindeer pulling Santa's sleigh! In years to come, as Santa continues to spread his joy throughout the world,  the Intelligence & Space Research (ISR) division will be tracking from our eyes in the sky.