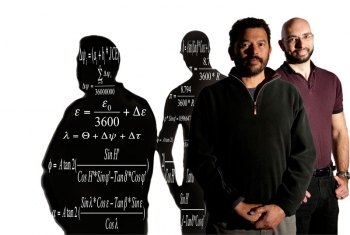 Metrologist Ibrahim Reda (left) and software developer Afshin Andreas developed the Solar Position Algorithm now used by solar trackers, orchard growers, and movie-camera makers. The algorithm used in the SPA appears in the shadow. | Photo by Dennis Schroeder/NREL.
Our Solar Industry At Work Series shares the personal success of America's solar workforce – from finance experts, to scientists, to engineers. You can learn more about the series here.
Ibrahim Reda's work life revolves around absolute precision. That's because he is a metrologist – a profession devoted to the science of measurement.
As a metrologist, Reda conducts research at the National Renewable Energy Laboratory's (NREL) Solar Radiation Research facility. "My research is always geared toward reducing the uncertainty of NREL's measurements." he explained. "It's very important for research ideas, so that experiments can be repeated anywhere in the world."
What Reda enjoys most about metrology – a field he's studied for more than 35 years – is its far-reaching implications. "It promotes fair trade (Editor's note: think validating the measurement for a kilogram of sugar or gallon of gas) and the exchanging of ideas, which are great for humanity," Reda said.
This is exemplified by the popularity of the Solar Positioning Algorithm (SPA) -- developed by Reda and fellow NREL Senior Scientist, Afshin Andreas. The algorithm, intended to track the precise position of the sun, has been downloaded from the NREL website by more than 5,000 users. Since its launch, the algorithm has been embraced by a variety of groups -- including solar trackers, orchard growers, and movie-camera makers. "The realization that users always thrive for such accuracy is rewarding," said Reda.
As for sharing advice with young professionals and students interested in pursuing a similar career path, Ibrahim had this to say: "Metrology is a continuous learning process. New ideas are always emerging." He added, "All major manufactures and laboratories focused on quality, are always in need of metrologists."
To learn more about Ibrahim Reda and his work in developing the Solar Positioning Algorithm, view this National Renewable Energy Laboratory news feature.