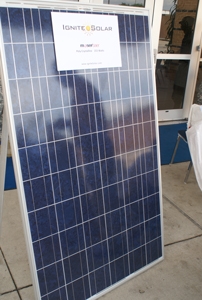 Sam Rayburn High School in Pasadena, Texas is installing solar panels which will be used incorporated into the school's curriculum. | Photo courtesy of Sam Rayburn High School
Solar energy systems at two Houston high schools to save $15,000 annually
Generate an estimated 172,000 kilowatt hours annually
Avoid green house gas emissions equivalent to 14,000 gallons of gas consumed
School-based solar isn't just for math and science students.
At two Houston-area high schools students in core courses – ranging from English to history to fine arts – will take part in a solar energy curriculum that has a real-world component.  The students will work with teachers and engineers as different types of solar panels are installed at the schools.
Houston's Pasadena Independent School District (PISD) and the Houston Advanced Research Center (HARC) are installing the solar energy systems at district's Sam Rayburn High School and South Houston High School. The two PISD high schools are estimated to reduce combined annual utility costs by $15,000. The solar energy systems will generate an estimated 172,000 kilowatt hours annually, which will avoid the release of 124 metric tons of carbon dioxide emissions per year, equivalent to using 14,000 gallons of gasoline.
Totaling about 145 kilowatts, the rooftop solar energy systems will include three different photovoltaic solar cell technologies. The projects will use multi-crystalline cells, thin-film amorphous cells and cylindrical cells, and they are meant to complement each other with different benefits. For example, thin-film amorphous cells work well at lower light levels and high temperatures, while cylindrical modules have rows of tubes that allow wind to pass through easily.
Students and solar
"We want every student on campus to be very aware of this project, of the benefits of alternative energy resources, and to take that back to their home and to their parents," says Grace Blasingame of Sam Rayburn High School.
For starters, students will learn from engineers how solar panels are installed, operated and be able to analyze the solar technologies' efficiency. They will also follow up on clean energy topics in various classes. For example, U.S. history classes will examine the history and development of renewable energies, while social studies classes will incorporate topics such as environmental policy.
"We have a video class that will document this project from the start all the way through. They do a daily news program and will report the progress," Blasingame says. "We also have students doing artistic renderings of the project. We want to have a solar powered water fountain and art students will design the mosaic artistic representation on the fountain."
Students can also track the real-time data on kiosks in the entrance of each school, Blasingame says. Even the local community can be involved, for current and historic data will be available on the school and district websites so that those interested can track the output of the solar panels.
Liz Price, a HARC research associate, says the project is still in the design process but that installation will begin by the end of the summer. Ignite Solar is designing the project and will use American Electric Technologies for power distribution and converter systems and Solar Community for the panel installation.
According to Price, one of the greatest benefits of collaborating with a school district for the project is the educational and outreach component.
"It's not often that we can do a demonstration project on a school and include the students in a learning experience," Price says. "We're trying to engage the students as much as possible."