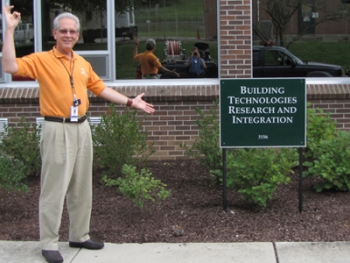 Norman Durfee, project manager at Oak Ridge National Laboratory, stands in front of Building 3156, the first DOE retrofit office building to receive a net-zero designation. | Department of Energy Photo | Courtesy of Oak Ridge National Laboratory | Public Domain |
Building 3156 stands on the campus of Oak Ridge National Laboratory in Oak Ridge, Tenn. It's just one of many buildings at the various U.S. Department of Energy national labs scattered across the country -  or so it seems.
But in reality, the building is unique because it is the first DOE retrofit office building that has been given the designation of being a net-zero-energy building.  This means it uses equal to or even less than the amount of energy it produces annually.
Norman Durfee is the project manager at ORNL who oversaw the building's conversion from using energy to saving it. He says that while the process involved several retrofitting measures and integration with a renewable energy system, the end result was well worth the time and effort.
'Substantial' changes
The two-story Building 3156 is an office building of about 7,000 square feet that houses nearly 35 employees. Durfee says the idea to turn it into a net-zero-energy building came from the Sustainable Campus Initiative at ORNL. From that came Zero-Energy Campus Project in 2009, a plan to make the four main buildings of the Buildings Technology and Research Integration Center eventually use net zero energy from the grid. Building 3156's retrofits were completed in September 2009 and included switches to more energy-efficient lighting, heating and cooling.
"We made several substantial changes," Durfee says.
Almost all of the building retrofit work was done with ORNL's in-house forces. Though the approximately $150,000 spent on retrofits for the building during a two-year period significantly reduced the building's energy usage - by about 35 to 40 percent at its current capacity - it does of course still need some energy.  This energy is generated through a 51-kW solar array that was installed near the building prior to the net-zero-energy project.
"During cold winter months, we might need more energy than the array produces," Durfee says. "But we measure net zero from a 12-month cumulative average, meaning some months we actually have energy left over that gets placed onto the grid so everything balances to using less than or equal to zero energy each year."
The lab also implemented software that shuts down computers at night and helps power off any other accessories plugged into a smart power strip where the computer is linked to the master outlet. "It's surprising how much energy computers use, and because our measures with powering off computers were so successful, it's been implemented across the Oak Ridge National Laboratory now."
Behavioral changes
As more employees end up working in the building, the mission to maintain a net-zero-energy rating becomes about education, Durfee says. 
Less than zero 
A net-zero energy building is very energy efficient and produces as much energy as it uses over the course of a year. The remaining low energy needs are typically met with on-site renewable energy.
Learn more about "net-zero" definitions, including "net-zero energy emissions."
 "We meet with all of the occupants to talk about their involvement in the project," he says. "Reducing our plug loads requires people to participate. So we constantly renew our efforts to educate new people in the building about how everything they can do to save energy - helps."
Occupancy sensors on lights and heat pumps and Energy Star-labeled appliances are also helping with the energy-saving efforts. Durfee sees the project as a success and says ORNL has already begun retrofitting the second of the four buildings it hopes to turn to net-zero-energy.
"As we fine-tune what we're doing here and document our success, we can apply this to more buildings and develop standard office setups that can be applied elsewhere," he says. "This is a two-way street with commercial building technology development partners - we can also learn from them, and together we can find ways to transform net-zero-energy buildings to a larger scale."